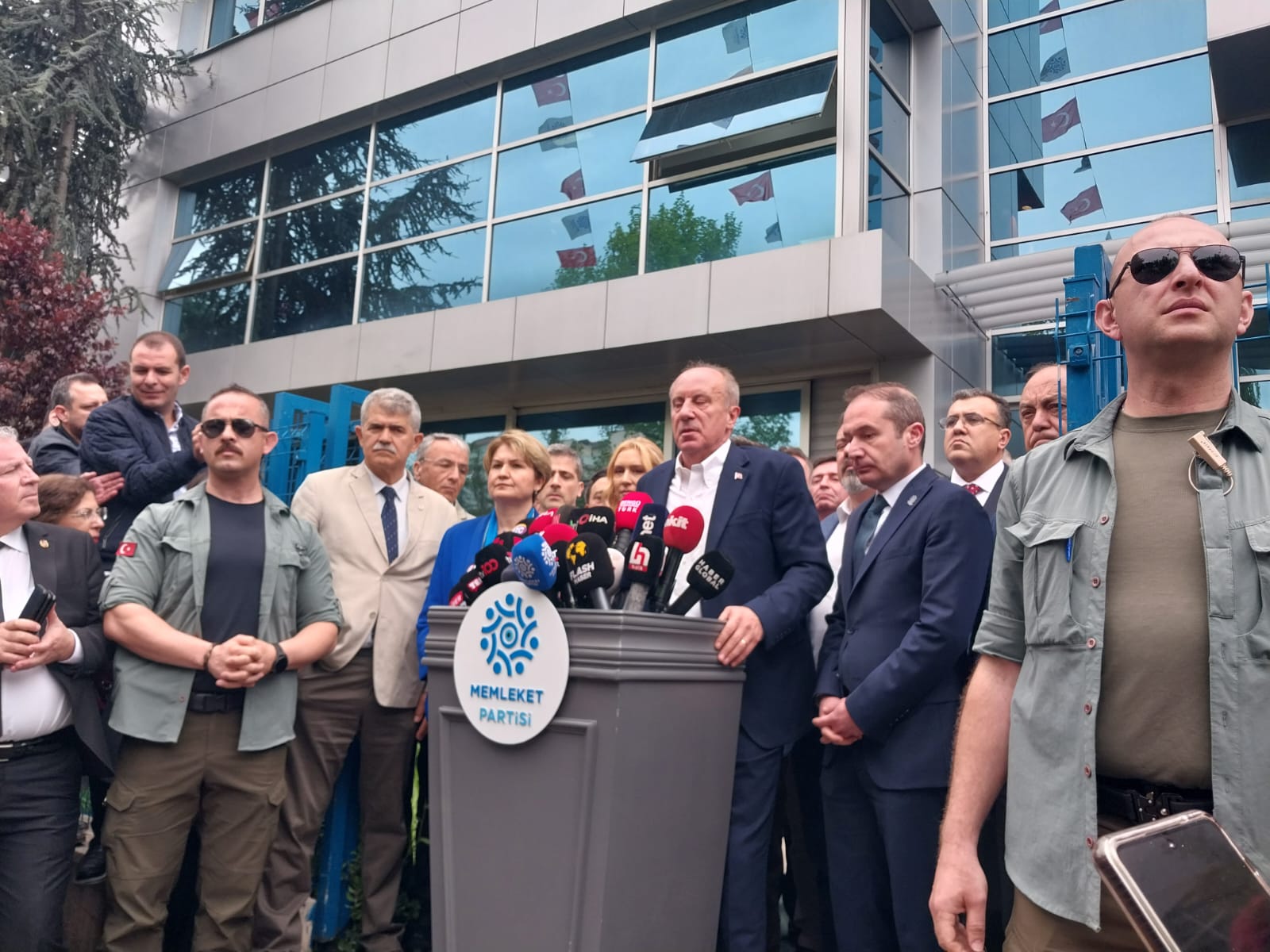 As Türkiye set to hold critical presidential and parliamentary elections in less than three days, Homeland Party (Memleket Partisi) leader and independent presidential candidate Muharrem İnce has announced that he is withdrawing from the election race, pushing the ballot balance towards CHP leader Kemal Kılıçdaroğlu's favor.
"I offered a third alternative to Türkiye. I tried to open a channel. We failed to do that," İnce said, speaking in front of his party headquarters in Ankara on May 11, amid shouts from the supporters "not to quit."
"What I've seen in these last 45 days, I have not seen in my 45 years of political life" İnce said, stating that he had struggled against defamation campaigns, fake videos and rumors; accusing the media of supporting the opposition to force him to quit.
"If they lose the election, they will put the blame on me. I don't want to give them that chance. I am withdrawing my candidacy," he said.
Erdoğan "saddened", Kılıçdaroğlu calls for unity
The latest polls indicate that he had around 2 percent of votes in presidential elections, where the race between CHP leader Kemal Kılıçdaroğlu and President Recep Tayyip Erdoğan is head to head.
After İnce's decision to withdraw, Kılıçdaroğlu repeated his previous call for unity saying "Let's leave old resentments aside. We welcome Mr. İnce to Turkey's table," while Erdoğan stated that he was "saddened", saying "Honestly, I am saddened, I wish this race would have continued until the end. I wonder what happened and he withdrew? We continue on the road with the others, the important thing is the decision my nation will make,".
İnce has been criticized for "splitting the votes" of the opposition as he declared his candidacy as an alternative to the candidacy of Kılıçdaroğlu, who was backed by the "Nation Alliance". The alliance is of the six opposition parties who came together against Erdoğan in an effort to raise their chances in gaining both presidential and parliamentary majority.
Second candidacy of İnce
This was İnce's second candidacy for the presidential race, as he was the candidate of Republican People's Party (CHP) against President Erdoğan in 2018.
He lost the race with 30 percent of the votes against Erdoğan's 52 percent. A win which gave Erdoğan the chance to cement his seat as the president with sweeping powers under the new "Presidential Governmental System."
His rise and fall from popularity were equally swift, as he failed to give a satisfactory speech after his loss, and disappointed the millions that supported him. Amid speculations of rampant irregularities in votes, his supporters turned to him for leadership, and were devastated by his disappearance, followed by a short text that stated "the guy has won".
He resigned from CHP and formed a new party, Memleket Partisi in 2021 as the country was heading towards one of the most critical elections of its political history – an election which may change the political trajectory of both Türkiye and the world.
Rise and fall of "the third alternative"
İnce was outspoken about his criticisms of CHP and the opposition alliance, claiming that he was undemocratically eliminated from the party, that his 2018 presidential campaign was sabotaged by Kılıçdaroğlu's team and he will offer a third alternative to both AKP and CHP.
His argument has been that he has been attracting estranged AKP voters, who drifted from their party as a result of economic difficulties, as voters have been suffering from the dire economic conditions of the country.
His party has also attracted the attention of the first-time Gen-Z voters as his social media popularity rose suddenly (especially through Tik-Tok). This questionable popularity in TikTok aside, there has also been a noticeable bot activity in Twitter posts and accounts that support İnce. Twitter bots are generally thought to be controlled by Russia but in İnce's case local bot farms and retweet bots also seem to be active.
His "third alternative" gained momentum and reached 10 percent following Erdoğan's announcement of the election date as May 14.
After the Nation Alliance announced Kemal Kılıçdaroğlu as their candidate, the polls kept recording a steady and sharp decline in his votes, while the most recent polls indicated that his support had dwindled down to just above 2 percent of the votes.
It was argued that one of the reasons behind his withdrawal was the fall of the votes and the pressures caused by the very recent allegations of corruption and a sex-tape.
Market rise after announcement
Following the rumors that İnce was about to withdraw from the race, Borsa İstanbul, the BIST 100 index rose by 353.53 points compared to the previous close, while the total transaction volume amounted to 89.6 billion liras.
The rise has reached 8 percent at the closure.
Inflation rate in Türkiye has surged to 80 percent in September as the Central Bank has been adhering to a stimulus monetary policy to boost export led economic growth. The government has been resorting to a series of measures including a currency protected deposit system in order to curb the currency crisis.
As of April the inflation rate has retreated to 50 percent, but there are reports of possible measures such as limiting the sale of currencies to companies.
Some opposition politicians and economists, including CHP Spokesperson and Future Party Head of Economic Policies Kerim Rota, -who will both be in Kılıçdaroğlu's economy management in the event of victory- claimed that the sale of foreign currency to legal entities was stopped on May 11.
These reports that the Central Bank warned banks to limit the sale of US Dollars to companies resulted in speculations that the Turkish Lira will depreciate rapidly after the election.
The rise in the stock market despite these circumstances has led to comments that the CHP has created a morale effect.
Votes for İnce will be valid
Ince needs to apply to the Supreme Electoral Board for his decision to withdraw.
Even though he has declared his decision to withdraw, there cannot be a correction in the ballots as the actual ballots have already been printed and sent to the voting centers.
In addition, the voting had already started abroad, and 1,7 million Turkish citizens living abroad have cast their votes in the last two weeks.
According to the information obtained from the Supreme Election Board, the votes cast for Muharrem İnce in the ballots will be valid.
However, if Muharrem İnce becomes the second runner-up in the presidential election and the race moves on to a second round, the third runner-up will run instead of İnce.
In favor of the CHP
Latest poll results announced this morning indicate a slight chance of Kılıçdaroğlu's victory in the first round, depending on the votes to İnce and the other independent candidate, nationalist Sinan Oğan.
According to KONDA's latest field survey conducted on May 6 and 7, CHP leader Kılıçdaroğlu received 49,3 percent of the votes, while President Erdoğan received 43,7 and the votes for independent candidates Oğan and İnce were 4,8 and 2,2 respectively.
The KONDA statement indicated that "If the trend of vote change in the last week continues, there is also a possibility that the election will be concluded in the first round in favor of Kemal Kılıçdaroğlu,".
Other polling companies' results show Kılıçdaroğlu's votes around 49 percent and İnce's votes around 2 percent. Any votes shifting from İnce to Kılıçdaroğlu will increase, the opposition's chance to win in the first round.
However, young followers who had an active part in İnce's political campaign believe otherwise.
İnce's supporters in front of the party building were chanting for him not to quit, and stated to YetkinReport that they will either not vote at all or vote for İnce even if their votes are for naught.
"This decision will result in Erdoğan winning in the first round," they said to YetkinReport with frustration and anger, stating that they believed in İnce's third alternative because it offered them a hope within a grim system in which they were born into.
Their choices will determine the country's future.