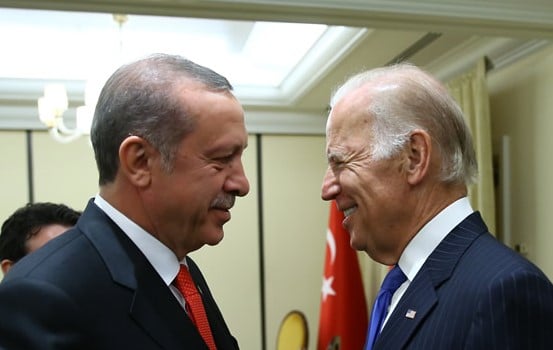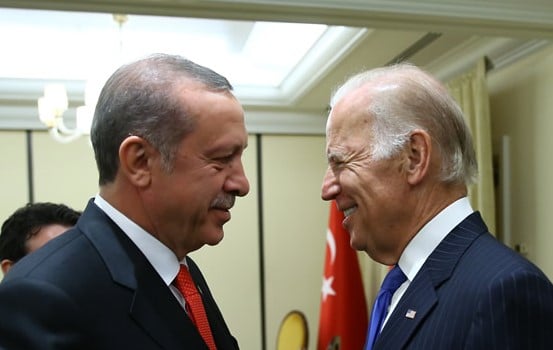 Democrat candidate Joe Biden is ahead in the US Presidential election. According to a poll by Fox TV, an ardent defender of President Donald Trump, he is 8 points ahead. The difference is more than what Hillary Clinton appeared to have over Trump in polls four years ago. Still, there is mention of "Embarrassed Trumpism" who do not appear in the polls. The victor of this election matters to Turkey as much as it matters to the world. On an international scale, President Tayyip Erdogan's name often gets mentioned alongside Trump. A pressing issue is how ready Turkey is to future sanctions and similar moves from the US, that Biden will put in place if he gets elected. We must keep in mind that as I write these lines, the value of the lira against the dollar has fallen to 8.45.
It's no secret that Biden's relations with Turkey go as far back as forty years. Recently, his harsh attitude and sanction promises towards Turkey and Erdoğan have also been well-documented.
But recent developments showed Ankara's readiness to turn a corner when necessary. With the Ankara-Washington parallel diplomacy revving up in the last few weeks, the possibility of Biden's win has found a place in Erdoğan's US equation.
Signs of change from Ankara
Considering the impression gathered from YetkinrReport's sources in diplomacy, politics and economy, the following assessments can sum up Ankara's effort prepare for a possible Biden administration:
Turkey and Erdogan will reap short-term benefits if Trump wins. However, it will do more considerable damage in the long run. One of the reasons for this assessment is that now, Beştepe too believes that another Trump victory would aggravate the worldwide political and economic chaos. Turkey, considering its current political and economic situation added to its other problems, may not be able to bear this shock.
If Biden wins, its short term effect on Turkey will be harmful. Biden can strike down on Erdoğan, other leaders who are close to Trump. Besides, there is the strategic issue of S-400s that the Pentagon is pressing hard. But Biden would benefit Turkey to win in the long run. The crucial factor here is that Biden is more "rational and predictable", as one of our sources involved in the developments put it.
In summary, Beştepe believes that Biden's win will be, overall, "less harmful," and could even benefit the country "depending on the developments in Turkey".
Being ready for "less damage" through Biden
Parallel diplomacy efforts between Ankara and Washington in the last few months, the details of which we don't know yet, seem to have played a role in this assessment.
At the moment, one major issue between Turkey and the US is that of the Russian S-400 missiles. The fact that another NATO member has access to a Russian weapon of superior technology has even impacted the strategic scenario maps of the US Defense Ministry.
On the other hand, if Biden is to return to the White House four years later as the President, having left as Vice President, he will face a different Turkey. As a result of Erdogan's high-risk military diplomacy, Turkey currently holds a place in many tables: Syria, Libya, Azerbaijan-Armenia. It has also demonstrated that no solution is possible in or the Eastern Mediterranean without Turkey's presence at the table.
Biden's team, which he took over from Obama, has a negative approach to Erdoğan and Turkey. But he is unlikely to make such violent moves that will push Turkey towards Russia, China or Iran.
However, how sustainable Erdoğan's ambitious foreign policy will be, and how much he will be able to maintain his power at home, given the economic and political setbacks, remains a big question mark.
Impact on the economy
The first economy-related issue that comes to mind is that Biden will press on Erdogan over the Halkbank case. However, one of my sources said that "there is no need for Halkbank at all". "Unfortunately, Trump has shown what the US President can do to the Turkish economy with a single tweet. We must be ready that Biden can do this too."
Being ready means not allowing him to do this. And this doesn't have to do with foreign policy alone. What my sources have stressed as "depending on the developments in Turkey" has to do with internal politics. The most important aspect that would benefit the economy would be improving the quality of law and democracy in Turkey. And the problem lies in how ready Erdoğan is to bring back Turkish jurisdiction and democracy closer to EU standards. Because, the trend of one-man-rule and law repudiation, made global by Trump, has also had exacerbated on the preexisting situation in Turkey.
It may be a little early to talk about these. But Turkey must be ready for the changes to its economy and internal politics following Biden's potential win.
In summary, Erdogan gives the message that he is ready for the possibility of Biden's election.