Yalçındağ told Biden that "sanctions will harm trade"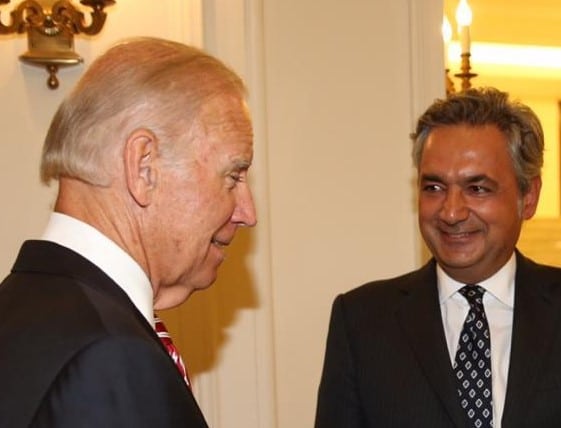 In a letter to U.S. President-elect Joe Biden, Turkey-US Business Council (TAIK) Chairman Mehmet Ali Yalçındağ said that sanctioning Turkey could harm economic relations between the two countries and more trade could help to ease the political tension. Yalçındağ, who is also known for his friendship with former U.S. President Donald Trump, congratulated Biden in a letter which was "delivered to Biden's office" on December 18, for his election victory after it became official on December 14. The letter is the first communication of the Turkish business community with Biden after the November 3 elections. In his letter to Biden, Yalçındağ said that TAIK still supported increasing the annual trade volume from $25 billion to $100 billion; a target announced (and later suspended) by Trump following a meeting with Turkish President Tayyip Erdoğan in 2019. Yalçındağ told YetkinReport that reaching that trade volume could help to find solutions to military and political tensions in between.
Two proposals
Yalçındağ forwarded two suggestions of TAIK to Biden to improve the trade relations between the two countries. One of them is a Free Trade Agreement that the Turkish government has long demanded. The other is establishing a bi-national commission where Turkish and American Ministers will regularly communicate, discuss problems, seek ways of cooperation, and exchange ideas. Yalçındağ also said the following in his letter to Biden:
• "TAIK members represent some of the largest and most prominent companies in Turkey and have invested billions of dollars in the United States supporting tens of thousands of American jobs in local communities. Equally, Turkey represents a critical overseas market for American companies doing business in our country.
• "As your administration looks to transform the American economy in the aftermath of COVID-19, Turkish manufacturers are well-positioned to help U.S. companies diversify their supply chains in several key sectors."
Troubled relations
Already troubled relations between the two NATO allies further strained when Turkey decided to buy Russian S-400 missiles because the U.S. declined to sell Patriot missiles to Turkey. The White House had ousted Turkey from the F-35 project and seized its pre-paid jets, despite being a co-producer. U.S. departments of State and Treasury recently imposed sanctions on Turkey's Defence Industry Directorate due to a Congressional demand, with a threat that there could be more sanctions. President Erdoğan reacted harshly to the sanctions. Biden's handling of Turkey-US relations after assuming the Presidency on January 20, is likely to have an impact on Turkey's economy and international relations. The letter of the TAIK Chairman Yalçındağ is an attempt to ease the tensions between the two countries.
Recalling that Biden had attended the American-Turkish Conference in 2013 (when he was the Vice President) TAIK Chairman Yalçındağ said that they would like to see Biden as the President of the U.S. in the next conference.