Eastern Jerusalem clashes resume, Turkey angry at Israel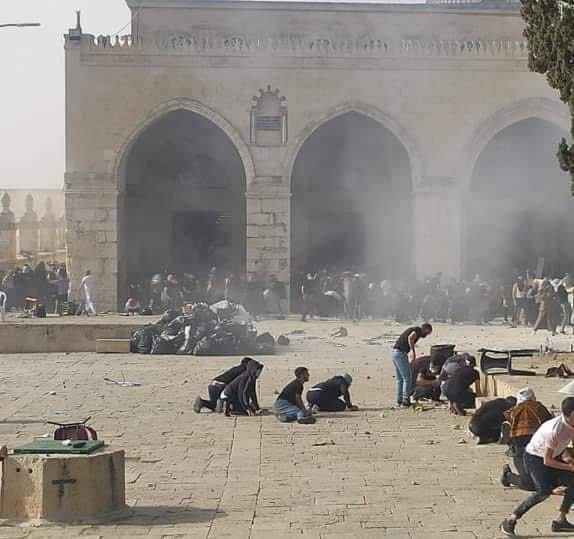 Clashes between protesting Palestinians and Israeli police at al-Aqsa Mosque in Eastern Jerusalem continued for another day on May 10 amid international calls to ease tensions.
The recent violence erupted on Israeli attempts to replace dozens of Palestinians, giving their homes to Jewish settlers in the Sheikh Jarrah neighborhood of Eastern Jerusalem.
Stéphane Dujarric, the official spokesperson for United Nations Secretary-General Antonio Guterres, said late on May 9 that Israeli authorities must exercise maximum restraint and respect the right to freedom of peaceful assembly.
"All leaders have a responsibility to act against extremists and to speak out against all acts of violence and incitement", the statement read.
The U.N. Security Council is scheduled to hold an emergency meeting on the clashes at the clashes on the Temple Mount that includes al-Aqsa.
On May 9, the U.N. children's fund, UNICEF, urged the Israeli authorities to refrain from using violence against children and release all those children detained. At least 29 Palestinian children have been injured along with hundreds of adults over the past two days over, and eight children were detained.
U.S. National Security Adviser Jake Sullivan expressed "serious concerns" of Washington amid rising criticism of Democrat lawmakers against Israeli violence.
The Arab League and Egypt condemned Israel.
Reactions from Turkey
All Turkish political parties expressed their anger against the Benjamin Netanyahu administration in a rare unity of discourse.
"Israel, the cruel terrorist state, attacks the Muslims in Jerusalem – whose only concern is to protect their homes … and their sacred values – in a savage manner devoid of ethics," Erdoğan said in Ankara on Jan. 9.
He urged the international community to react and called on the United Nations to "stop this persecution".
Main opposition Republican People's Party (CHP) leader Kemal Kılıçdarolu condemned the attacks of the Israeli police in a Twitter posting. "Our prayers are the with our Palestinian brothers, our hearts are one," he said.
Erdoğan's election partner, Nationalist Movement Party (MHP) leader Devlet Bahçeli also posted a message on Twitter. "Israel is a terrorist state, it uses violence as a political instrument. On the other hand, Jewish settler terror, which is constantly stimulating in the West Bank, drives the oppressed from their homes" he said.
Tülay Hatimoğulları, the deputy co-chair of Peoples' Democratic Party (HDP), condemned the attacks in a written statement. "Israel is invading Palestinian lands by settling settlers in these lands in violation of both humanity and international law," she said.
IYI Party (Good Party) chair Meral Akşener also reacted to Israel, saying that "I strongly condemn the attacks carried out by the Israeli police on our Palestinian brothers who worship in Masjid al-Aqsa during Mubarak Ramadan. We stand by our Palestinian brothers in the face of this inhumane incident," she said.