When will Turkish gov't break silence on mobster's claims?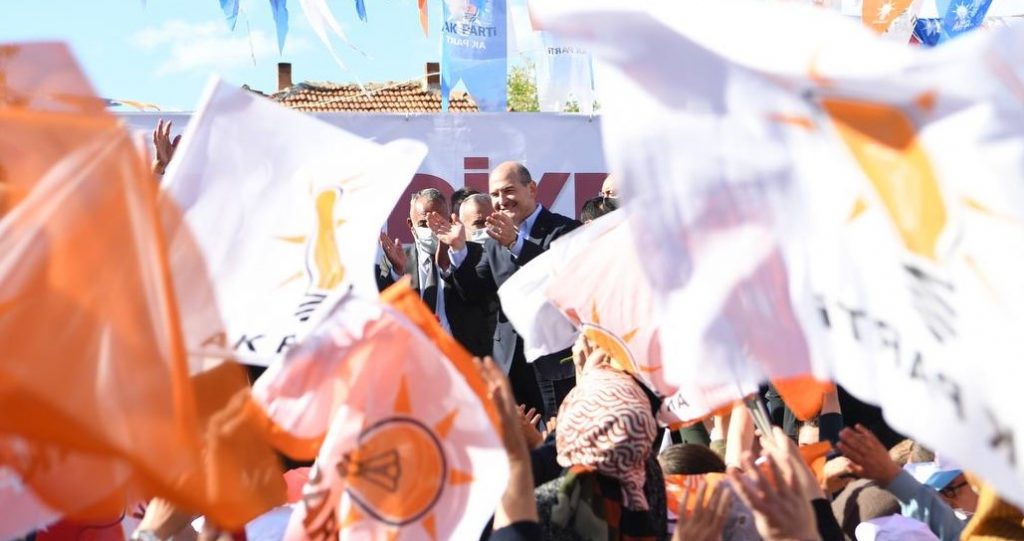 When will the deep silence of the government be broken on fugitive mafia leader Sedat Peker's allegations?
With the 2019 local election defeat, it was clear that things would not be the same in the ruling Justice and Development Party (AKP) and internal conflicts would emerge. This was inevitable as the cake shrank with the loss of the mayor seats in big cities, including Istanbul and İzmir, that generate big revenues. But no one could have predicted that the fight would come this way.
Peker was in some way involved in the parasitic relations that have surrounded the AKP for years, and the more he talks because his benefits are harmed, the more he shakes the AKP. And now he's speaking about a "lion hunt". In his own words, he wants to get rid of his "mafia" past by "hunting a lion." But who is that "lion"? If he were referring to President Tayyip Erdoğan this would contradict his respectful tone when he speaks about his "Brother Tayyip." He said in his latest video released on June 6 that what he and the president spoke in private would go to the grave with him. In his latest video, he spells the word "death" three times. "You can only get rid of me by killing me," he said.
He avoided targetting Erdoğan, thus leaving a gate open to save himself. But he keeps attacking Erdoğan's inner circle, including much-trusted Interior Minister Süleyman Soylu.
Lion hunt and lousy claims
This time, he brought forward claims that could take Soylu to "Supreme Court," the status of the Turkish Constitutional Court while trying high-ranking state and government officials, if proven true. According to him, Sezgin Baran Korkmaz, a fugitive wanted for money laundering and similar financial crimes, was summoned to the Interior Ministry headquarters on Dec. 5, 2020 by Resul Holoğlu, the deputy director-general of police deportment in charge of organized crime. According to Peker, in the ministry, where he stayed for two hours, he was told that a probe into his actions was in the pipeline, he would better flee Turkey and he should write off some $45 million debt to a business person under the knowledge of the "upstairs." Peker also said the word "upstairs" referred to Erdogan.
Journalist İsmet Berkan said in his +HaftalıkGazete that the business person Peker implied was İnan Kıraç, who had parted his ways with Koç Holding, the largest conglomerate of Turkey, with a bad taste. Berkan said Kıraç told the president about the situation because he was threatened by Korkmaz, who said "Judges are my men, I will have them foreclose on your assets."
Then, on Dec 28, 2020, one day before the due date of Kıraç's debt to Korkmaz, an operation was held against the latter and his wife was detained.
It is impossible to believe that the interior minister and the deputy chief of police intervened with the knowledge of the president to collect the debt of a business person and allowed the suspect to flee instead of catching them.
Maybe Soylu should launch an investigation about himself to clear his own name. (I made a request to his office for an interview on these allegations, and still waiting for a response) However, the government is still silent.
After being personally targetted by mani opposition Republican People's Party (CHP) leader Kemal Kılıçdaroğlu, Parliament Speaker Mustafa Şentop requested information and documents from the Interior Ministry about the lawmaker who Peker claims to have hired for $10.000 a month. Soylu had previously stated that he knew the name of this lawmaker, but he would tell the name only to a prosecutor.
Just like the government, the judiciary also remains silent.
Mobster's relations with politicians and media
Peker said on June 6 that the lawmaker he calls "Brother Metin" was Metin Külünk, an AKP deputy in the 24th to 26th terms (until the 2018 election). He also ridiculed the monthly $10.000, saying that he paid higher amounts.
He also said he paid off 300 thousand liras debt of Ömer Külünk. a relative of the lawmaker, "to avoid sending a message that Peker is back in money collecting business."
Peker also claimed that his relationship with Külünk was still ongoing. It was Külünk who "convinced him not to talk about Erdoğan until the president's meeting with U.S. President Joe Biden on June 14." He hinted that there were other lawmakers in his payroll. "Don't worry, I won't touch those who don't touch me," he said, speaking softly and carrying a big stick. He said he supplied the coffee packages that the AKP distributed in his election campaign but the party "did not pay a dime for it."
So do you think Erdoğan will order Ahmet Aydın, the AKP disciplinary committee chair, to launch an investigation about Külünk. Or about Deputy Chairman Numan Kurtulmuş, or Binali Yıldırım, who was also targeted by Peker not directly but because of his son Erkam Yıldırım? Külünk is Erdoğan's countryman from the Güneysu district of Rize, just like Imam Mustafa Demirkan, who insulted Atatürk in Hagia Sophia recently.
And the media. Don't ask about it. Peker targeted this time Veyis Ateş, Habertürk's screen face with a theology background. According to what he said, he had a phone talk with Peker's "relative" Erdal Aras during the commercial break of the much-awaited live interview of Süleyman Soylu. The minister appeared on the TV to clear his name, a rare occasion. Peker accused Ateş of blocking questions by İsmail Saymaz, one of the five journalists in the program. Peker said Ateş was involved in the seizure of Sezgin Baran Korkmaz's Paramount Hotel in Bodrum with "Mehmet Ağar tactics." He was referring to the takeover of Yalıkavak Marina in Bodrum, the Aegean resort, by former Interior Minister Mehmet Ağar from Azerbaijani business person Mubariz Mansimov. We will see how many more "colleagues" will be the subject of such dirty claims.
Shouldn't we ask about these?
President Erdoğan was irked by the opposition that questioned the spending of Central Bank reserves until 2010 in a failed attempt to defend the value of the lira. "Where is $128 billion?" was the motto of the campaign and Erdoğan asked back in anger: "Can you question the Central Bank money?" This is a question that contradicts not only democracy but also even the fundamentals of the concept of parliament.
So shouldn't we all be asking about these allegations?
We heard the name of the accused lawmaker from Peker, not the interior minister.
This is one good example that shows that Erdoğan and his AKP are weak in determining the political agenda of the country.
These issues have exceeded a level that could be settled by remaining silent or opening a mosque every week and a new natural gas field every month. The internal and external political balances are not suitable for a new Syria or Libya operation.
What they should do is to put an end to the pressure on the judiciary and to allow both the judiciary and the parliament to investigate these issues without hindrance. It is urgent to break this increasingly deepening and darkening silence with the right questions asked by the right people.
"Silence means confession," says an old proverb. Should we interpret the government's silence this way? Or are they waiting for a special occasion to break the silence?