Who will pay the bill of diplomatic fiascos in Ankara?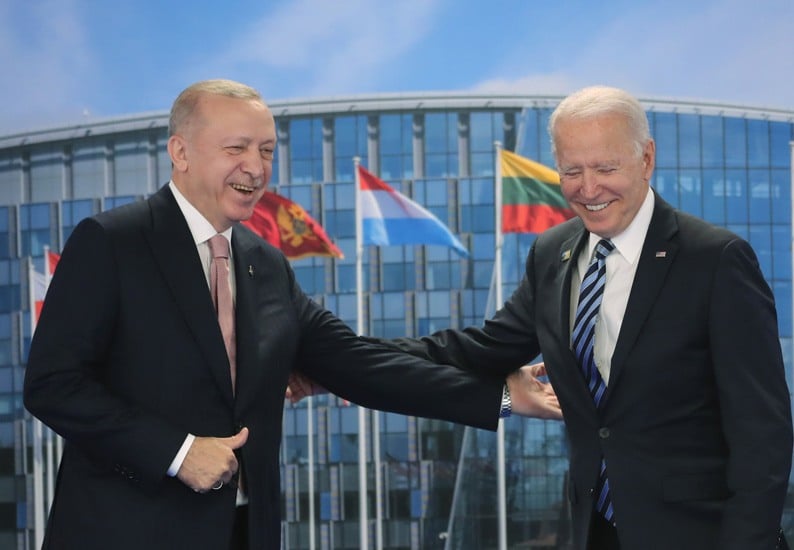 When I say the bill, I don't mean the financial bill. Of course, the bills of millions scattered with the demagoguery of "There is no saving from credibility" will surely come to us, the Turkish taxpayers. British Prime Minister Boris Johnson did not go to the meeting with US President Joe Biden in special Turkish President Tayyip Erdogan got his armored Mercedes limousines transported to the US with military planes to swing on the streets with the idea of demonstrating his credibility, but took the metro to go to meet the US President Joe Biden. After returning to Turkey, Erdogan surprised everyone and publicly expressed his disappointment that he had never been treated by any US President as he had been treated by Biden. As a matter of fact, we have never seen any Turkish leader before, putting himself and Turkey "unfortunately" in such a situation because the US President does not show sympathy for him and does not meet or talk to him whenever he wants.
However, Erdoğan did not have an appointment with Biden while he was flying from Istanbul to New York on September 19, where the United Nations General Assembly was to be held on September 21-22, despite the efforts of the Foreign Ministry and private channels in the background. Moreover, there was no sign given by the USA in this direction. But it seems Erdoğan still kept his fingers crossed on September 20 when he highlighted that they have "totally agreed" with Biden (during June 14 NATO Summit in Brussels) to enhance Turkish-American relations. But on September 24, while complaining to the press in Turkey about Biden he recalled the US as a supporter of terrorism.
Not only Biden, Mitsotakis as well
Most likely, someone in Ankara will pay the bill for Biden, but the recent diplomatic fiascos are not limited to the Biden crisis.
When Erdogan was asked about the Eastern Mediterranean and Cyprus issues at the press conference before leaving Istanbul on September 19, he said that Greek Prime Minister Kyriakos Mitsotakis wanted to discuss those issues with him and that they would meet in New York. They did not meet. Mitsokatkis went to New York on September 22, delivered his speech at the UN General Assembly on the same day with Erdoğan, but this meeting did not happen.
Perhaps to demonstrate that he had not been in New York before that day, Mitsotakis, adding insult to injury, met with Ekrem İmamoğlu, the opposition CHP member Mayor of Istanbul Metropolitan Municipality on September 21. İmamoğlu was in Athens as invited by Mayor of Athens Kostas Bakoyannis.
When asked, Greek sources told the press that such a meeting was not scheduled. Turkish sources, on the other hand, tend to put the blame on Mitsotakis, saying that he had told that on the phone to Erdogan. What is clear is the impression that Erdoğan's team did not give the President the right information at the right time. That bill is likely to be charged to someone as well, if not today, tomorrow.
Recalling the "good news" in Cyprus
Speaking of the right information at the right time, let's remember Erdoğan's recent trip to Cyprus.
On July 19, exactly two months before his departure to New York, Erdoğan talked about the "two states in Cyprus" solution at the press conference he held on his way from Istanbul to Lefkoşa, the Turkish side of Nicosia, and said that he would deliver a "good news" there. In his speech at the Turkish Cypriot Parliament two hours later, Erdogan said that the good news was the construction of a new complex for the Turkish Cypriot Presidency. No one believed that this was the good news he meant to give.
In those days there was an allegation in the diplomatic community in Ankara, which could not be confirmed so far that Erdoğan had invited the İlham Aliyev, the President of Azerbaijan to attend the anniversary ceremonies of the Turkish intervention to Cyprus on July 20, 1974. Aliyev could not come; he flew to Moscow on July 19 and met with Russian President Vladimir Putin on July 20. But it turned out that Aliyev's was a scheduled visit to Moscow. Another interesting development took place in Ankara the same day. the diplomatic front. Azerbaijan's bright Ambassador to Ankara, Khazar Ibrahim, was dismissed on the same day without any justification. Oddly enough, a few hours later, it was announced that Ibrahim had been appointed as Ambassador to Washington; an obvious promotion. It was not a punishment, but a reward.
On the same evening, a video message of Eid-al-Adha by President Erdoğan was broadcasted; he was in his holiday outfit and looked quite tired.
Who will pay the bill?
Turkish President is scheduled to meet the Russian President in Sochi on September 29. When complaining to the press about Biden, he said he was hopeful for better relations with Putin. Turkey's purchase of Russian S400 missiles is the number one problem with the US, and now Russia is eager to sell the second batch, whereas Erdoğan wants to play with time to see how things will evolve with the US. But Russia is upset with Turkey's denial of the annexation of Ukrainian territory Crimea, in parallel with the NATO decisions, and politicians as Putin to play the "Kurdish card" against Turkey in return. Russia is already dealing with the "Kurdish card" in Syria, and Syria is likely to be the top topic in the meeting. This is perhaps not a diplomatic fiasco but a major foreign policy gambit.
By asking "Who will pay the bill?" I do not particularly imply Mevlüt Çavuşoğlu, the Minister of Foreign. Turkish Foreign Ministry has not been in the leading role of foreign policy and diplomacy for the last few years. There is a team formed by Erdoğan on foreign policy issues. Besides Çavuşoğlu, the team includes President's Security and Foreign Policy Advisor (and spokesperson) İbrahim Kalın, Minister of National Defense Hulusi Akar, and the Director of National Intelligence (MİT) Hakan Fidan. Erdoğan's ally, National Movement Party (MHP) leader Devlet Bahçeli has also a de facto say in crucial foreign policy matters. Erdoğan has also a special team of backchannel diplomacy, consisting of a small number of AKP politicians and businesspersons.
And who will not?
The President is the sole decision-maker.
So, let's go the other way around. Who will not be billed for these and similar fiascos? Or who is more likely not to be charged the bill?
I don't think the Minister of Defense Akar will pay the bill. As a matter of fact, since the coup attempt of 2016, it has been the military that has mostly sustained Turkey's foreign policy and shown it to friend and foe. Syria, Libya, the Eastern Mediterranean, Azerbaijan are examples of this. I don't think intelligence chief Fidan will pay any bill for diplomacy fiascos either.
The rest is free guesswork. Will some ambassadors be changed now, some high-rank bureaucrats? Will it go higher? It's hard to predict. But to show that it was not Erdoğan who made a mistake but was misled, it is likely that someone will be charged for what happened.