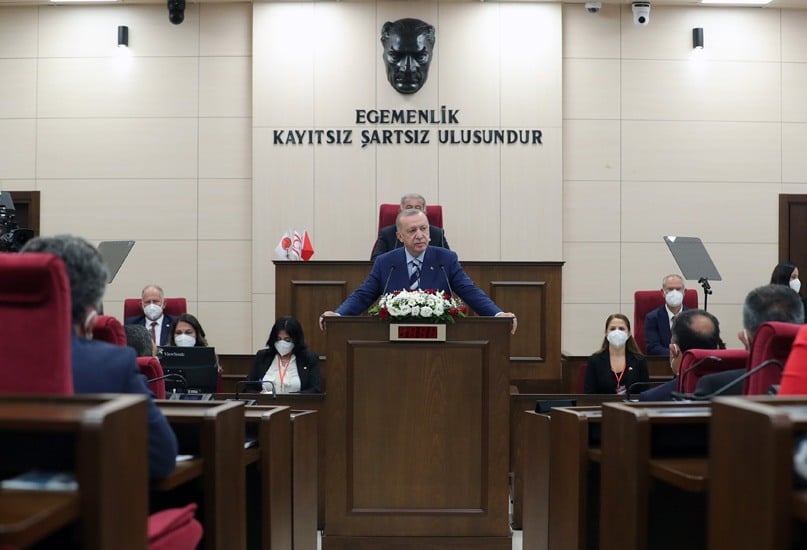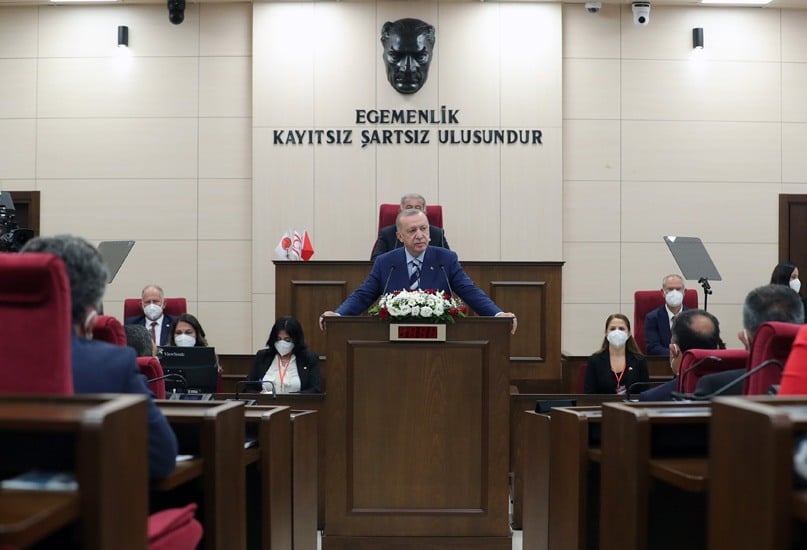 President Recep Tayyip Erdoğan's awaited message on Turkish Cyprus turned out to be the construction of a presidential complex on the Turkish side of the divided island, with speculations that he would announce a political step failing.
Erdoğan visited Nicosica to attend the special session to mark the 47th anniversary of the Turkish intervention on the island in response to a Greece-backed military coup. The celebrations will continue on July 20.
Before Erdoğan's trip to Cyprus, it was speculated that "good news" on a "two-state solution", an approach opposed by the EU, would be announced.
"As it is known, the Turkish Cypriot Presidency has neither a proper Presidential building or a complex, nor a proper parliament building. We think it does not suit Turkish Cyprus. Likewise, the building in the Presidential Complex was a well-known British-era slum. The steps for this presidential complex are finalized and hopefully, we will start the construction soon in the Metahan region. We also negotiated the issue with our armed forces and allocated 500 decares of land there for this project," he said, adding that "This is the expression of being a state."
"By realising this project some people must see what sort of a Northern Cyprus state there is," he said
Meanwhile, the delegation of the Foreign Affairs and Inter-Parliamentary Relations Committee of the Azerbaijan Milli Majlis, or the parliament of Azerbaijan, visited Turkish Cypriot President Ersin Tatar two days before Erdoğan's visit. This political move of Azerbaijan, which does not recognize Turkish Cyprus, raised expectations regarding the "good news" that Erdoğan would announce.
'Two-state solution'
In his speech, Erdoğan retreated his push for a two-state solution, an idea opposed by the European Union.
'He said the negotiations so far have yielded no results, accusing the Greek side of not keeping its promises.
The Republican Turkish Party (CTP) and the Communal Democracy Party (TDP), which have 15 seats combined in the 50-seat parliament of Northern Cyprus, did not attend the session to protest Erdoğan.
President Tatar described the boycott decision as "betrayal" and these parties as "collaborators."
Openly supported by the Turkish government, Tatar was elected in the presidential election on October 11, 2020, to replace Mustafa Akıncı, who was trying to maintain a more balanced relationship with Turkey after the solution process he carried out for a solution failed.