Erdoğan declares 10 Western ambassadors as persona non grata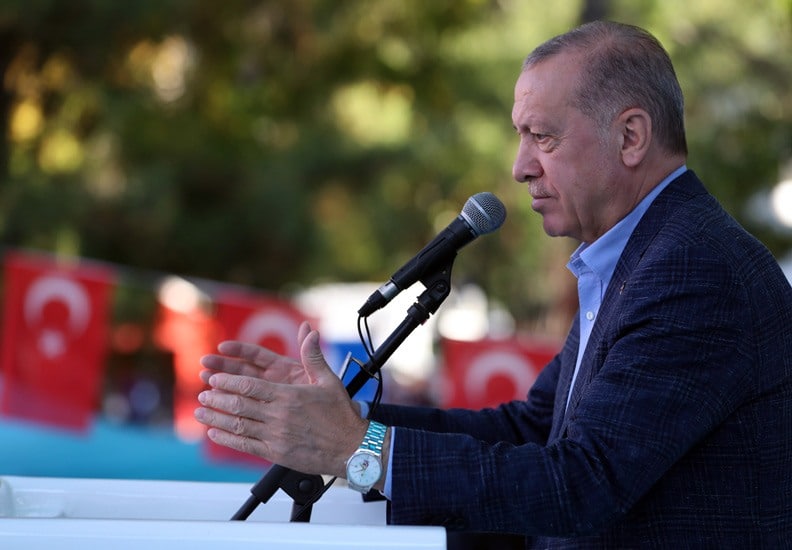 Turkish President Tayyip Erdogan said on October 23 that he instructed Foreign Minister Mevlüt Çavuşoğlu to declare ten ambassadors as "persona non grata" and get deported from Turkey. Erdogan said the Ankara Ambassador of the USA, Germany, France, The Netherlands, Sweden, Norway, Finland, Denmark, Canada, and New Zeeland interfered in Turkey's interior affairs by writing a letter to release Osman Kavala from prison. Speaking in Eskişehir, West of Ankara, Erdoğan said that the ambassadors interfered in Turkey's interior affairs. The USA, Germany, France, the Netherlands, Norway, Denmark, and Canada are Turkey's allies in the Western defense alliance NATO.
"They are obsessed with Kavala," Erdogan said. "Kavala is Turkey branch of [George] Soros. Ten ambassadors are coming to our Foreign Ministry for him. What kind of impudence is this? What do you think Turkey is? Turkey is not a tribal state. You cannot come and try to instruct our Foreign Ministry. I instructed my Foreign Minister about what to do. I told him to do what is necessary to declare them persona non grata as soon as possible. You must understand, know about Turkey. The day that you don't, you will go."
The first reaction to Erdoğan's move came from the main opposition Republican People's Party (CHP) leader Kemal Kılıçdaroğlu. In his Twitter message he said the following: "The person that has dragged Turkey to the edge of a cliff gave intructions for declaring ten ambassadors as persona non grata. The reason for such moves is not to protect national interests but to make up artificial justifications to the economy that he ruined."
Ülkeyi hızla uçuruma sürekleyen Şahıs, bu sefer de "10 büyükelçinin 'istenmeyen adam' ilan edilmesi emrini" vermiş. Açıkça söylüyorum; bu hareketlerinin sebebi milli çıkarları korumak değil, mahvettiği ekonomiye suni gerekçeler yaratma çabasıdır. Dönüp bir bak halkın sofrasına!
On October 18, the ten embassies made a joint statement via Twitter and said the following as in the example of the US Embassy in Ankara account: "As of today, Osman Kavala has been detained for four years. His ongoing case has cast a shadow over democracy and rule of law in Turkey" and asked for his release. Osman Kavala, a businessman, and civil rights activist, got arrested in 2017 on charges of trying to overthrow the Erdogan government by organizing the 2013 Gezi Protests and espionage. The European Court of Human Rights has also asked Turkey to release Kavala because there was no solid evidence against him.
In the same speech that he declared the ten ambassadors as persona non grata, Erdoğan also said that his administration included Turkey among the most influential countries because of unprecedented democratic reforms and development in Turkish history.
Details will follow…