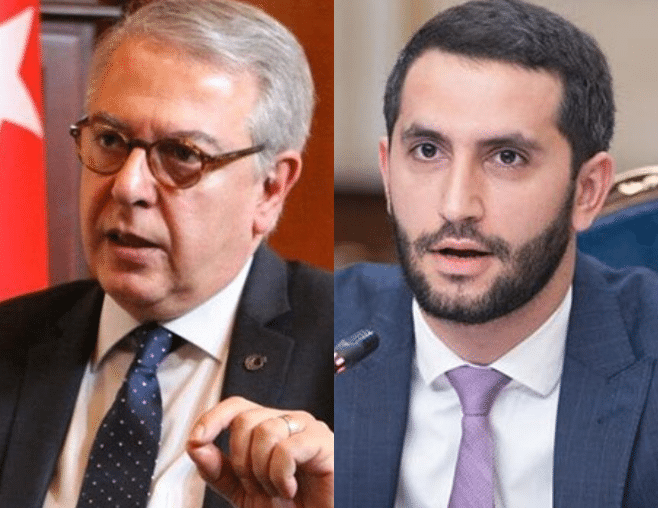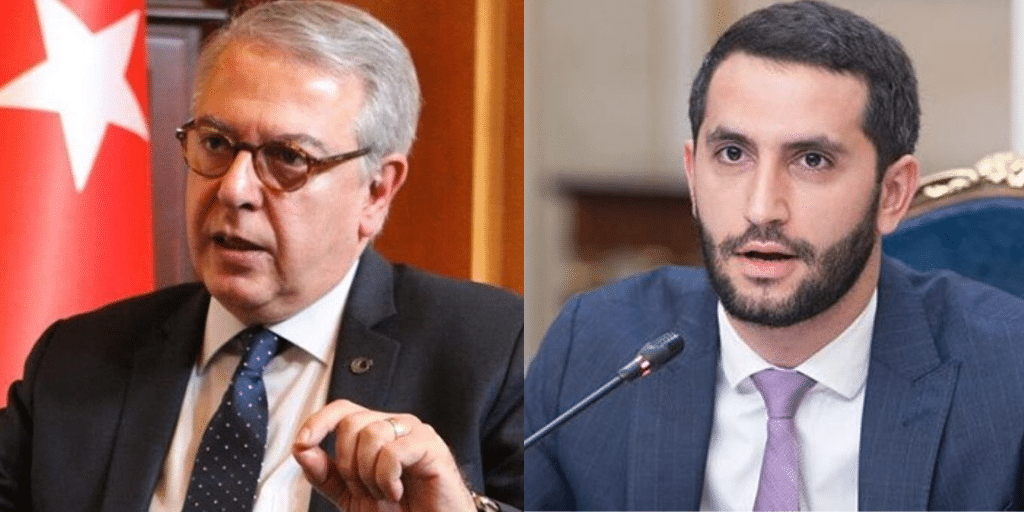 Turkey and Armenia named special envoys to be acted on the efforts to normalization of the mutual relations of the two countries, after Turkey's Foreign Minister Mevlüt Çavuşoğlu's call was received positively by Armenia.
Armenia's Foreign Ministry spokesperson announced that the Deputy Speaker of the National Assembly of the Republic of Armenia Ruben Rubinyan was appointed as the special envoy for Armenia.
"Deputy Speaker of the National Assembly Ruben Rubinyan will be the special representative of the Republic of Armenia for the process of the dialogue between Armenia and Turkey," the spokesperson said in a tweet on Dec. 18.
On Dec. 15, Foreign Minister Çavuşoğlu annonced that Turkey named former ambassador to Washington Serdar Kılıç as a special envoy to Armenia.
"With the authorization of the president, our former Washington ambassador Serdar Kılıç will be officially appointed as special envoy," Turkish Foreign Minister Mevlüt Çavuşoğlu said during his visit to the United Arab Emirates (UAE).
The reciprocal move came after Çavuşoğlu announced on Dec. 13 that Armenia and Turkey will appoint special envoys in an effort to normalize diplomatic ties. "We will decide it together with Azerbaijan," Çavuşoğlu said.
Following Turkish Foreign Minister's comments, Armenia stated that Yerevan welcomed Ankara's efforts.
"We positively assess the statement of the Turkish foreign minister on the appointment of a special representative for the normalization of relations, and confirm that the Armenian side will appoint a special representative for this dialogue," Vahan Hunanyan, the speaker of the Armenian Foreign Ministry stated on December 14.
US Secretary of State Antony Blinken also announced with a post on Twitter that "We (The USA) welcome and strongly support statements by Turkish Foreign Minister @MevlutCavusoglu and @MFAofArmenia on appointing Special Envoys to discuss the process of normalization."
No diplomatic ties
Turkey and Armenia have no diplomatic ties. Turkey shut down their border with Armenia in 1993 following an armed conflict between Armenia and Azerbaijan over the Nagorno-Karabakh region, which is under control of ethnic Armenian forces backed by Armenia but situated within Azerbaijan territory. As a result, Turkey did not open an embassy in Yerevan.
Relations took a different path in September and October 2020, as Turkey-backed Azerbaijan in the six-week conflict with Armenia over the region, which resulted in Azerbaijan taking control of some parts of Nagorno-Karabakh.
President Tayyip Erdogan announced on October 26 that Ankara's way to normalize relations with Yerevan was through Baku. Russian President Vladimir Putin met with Azerbaijani President Ilham Aliyev and Armenian President Nikol Pashinyan in Sochi on November 26. Erdoğan and Putin also discussed the issue on December 3 in a telephone conversation.
The agreement reached between the two countries with the mediation of Switzerland in 2009 did not yield results as the Armenian parliament did not accept the withdrawal plan from the occupied territories.
Permission for charter flights
Çavuşoğlu also announced that Turkish and Armenian companies had applied for permission for charter flights between Istanbul and Yerevan. The transport ministry will evaluate the applications and there would be more information in the coming days about which airlines could fly, he said.
The minister was speaking during a visit to Abu Dhabi as ties between Turkey and the United Arab Emirates following Abu Dhabi Crown Prince Sheikh Mohammed bin Zayed's trip to Ankara in November.
Çavuşoğlu said there were plans for Turkish President Recep Tayyip Erdogan to visit the UAE on February 14-15.