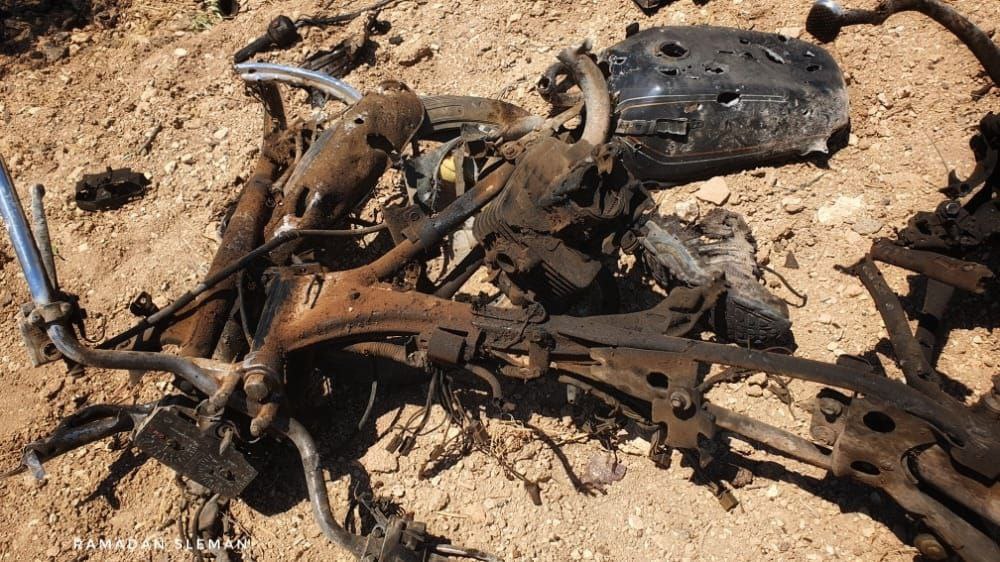 The US Department of Defense, Pentagon, more precisely Central Command responsible for Middle East Operations (CENTCOM), announced on July 12 that it had killed ISIS's Syria chief, Mahir al-Agal. According to the Americans, al-Agal, one of five members of the IS administration, was shot "outside Jindires in northwestern Syria," and another ISIS leader with him was injured. It is understood that Agal, who was previously reported to be in charge of ISIS in Raqqa, was shot down by an UCAV while he was traveling outside the Maleha village of Jindires town with his vehicle -a motorcycle as can be seen from the photos of the remains-.
ISIS is right under our noses
The town of Jindires is 7.5 kilometers from the Turkish border and 30 kilometers from the center of Reyhanlı district of Hatay.
Earlier this year, on February 3, 2022, ISIS leader Abu Ibrahim al-Qurashi was killed in a raid by American commandos in the Atme village of Syria's Idlib province bordering Hatay. More precisely, he committed suicide when he realized that he could not escape. Atme village is also 1.5 kilometers from the Turkish border and only 5 kilometers from the Bükulmez village of Reyhanlı, the nearest Turkish village.
Abu Bakr al-Baghdadi, the founding leader of the organization that Qureshi replaced, committed suicide on November 26, 2019, when he realized that he could be raided by US commandos in the village of Berisha, also in Idlib. The village of Berişe was also 5 km away from the Turkish border, that is, within walking distance. (Details at this link)
To sum up, all three top ISIS figures have been found and eliminated by US intelligence, CIA and CENTCOM commandos, in places where they hid within walking distance of Syria's border with Türkiye.
This sentence disturbs Ankara, but it has no factual errors.
Did Türkiye contribute to the operation?
Since these operations were carried out right under Türkiye's nose, the first question that comes to mind is whether Ankara also contributed intelligence or logistics?
Because in the first of these three operations, the US President thanked Türkiye, Russia, Iraq, Syria and "Syrian Kurdish forces" for their contributions to the Baghdadi operation.
The intelligence that led the US commandos to Baghdadi was partly from Türkiye. The chain of events started with the capture of İsmail al-İthâvi, who was responsible for death orders and financial management of ISIS, in the Arabacı Area neighborhood of Serdivan district of Sakarya, on February 8, 2018, with the joint operation of the Turkish National Intelligence Organization (MIT) and the Police Department. It was claimed that MIT installed a bug via the Telegram application on Ithawi's phone and that played a role in the CIA's finding of Baghdadi. 
Biden only thanked the American soldiers after the operation in which Agal was killed, as he did in the killing of Qureshi.
A senior security officer I asked about the last operation said that Türkiye did not contribute to the Agal operation like Qureshi. There was no such request from the Americans anyway.
Can't MIT find, can't TAF hit? 
The Ministry of Interior announced that an ISIS member was captured in Istanbul on May 24, thus preventing the 12th suicide bombing action planned by ISIS only in 2022.
Türkiye has changed its counter-terrorism strategy since the 15 July 2016 coup attempt; it directed its strategy to struggle at its source. This strategy is used against the PKK. With the help of the intelligence network of the MIT in Syria and Iraq and the developing UAV and UCAV capacity of the Ministry of National Defense, it is reported that influential PKK members in Syria and Iraq were killed. Sometimes these operations are carried out within a hundred-odd kilometers of Iraq.
Well, the CIA finds, the Pentagon shoots the ISIS leaders, who are right under our noses and within walking distance of our borders, but can't the MIT find them or can't the Turkish Armed Forces (TAF) hit them? Is it because the strategy of combating terrorism at its source is not sufficiently implemented against ISIS, because ISIS members can only be caught when they enter the borders of Türkiye, or when they are preparing for action by entering and settling in. Although, we also read the news that the captured ISIS members were released after a while.
This is not only a domestic security issue, but also Türkiye's border security issue.
Major ISIS actions in Türkiye
The MIT also caught Kasım Güler, who was reported to be responsible of Türkiye for the organization, on June 15, 2021, while trying to infiltrate Türkiye. In the indictment prepared against Güler, it was claimed that they had buried weapons in six places in Türkiye to be used when necessary, and that they were planning to assassinate some politicians, including CHP leader Kemal Kılıçdaroğlu.
After the establishment of ISIS in 2013, its first action against Türkiye was the Mosul Consulate General raid on 11 June 2014. No one died in this action, 49 people who were taken hostage were rescued by mediators.
On 20 July 2015, 34 people were killed and 100 injured in a suicide attack in Suruç.
On October 10, 2015, 109 people were killed and more than 500 were injured in the suicide attack on the crowd gathered for a peace march in front of Ankara Train Station. This was the deadliest terrorist attack in Türkiye's history.
On January 12, 2016, 13 people were killed and 12 injured in the suicide attack to a tourist group visiting Sultanahmet, Istanbul. On March 19, 2016, this time, 5 people were killed and 36 people were injured in a suicide attack on tourists on Istiklal Street, in İstanbul.
On June 28, 106, 45 people were killed and 239 people were injured in the Istanbul Atatürk Airport raid.
On January 1, 2017, 39 people were killed and 70 injured in the raid on the Reina nightclub in Istanbul.