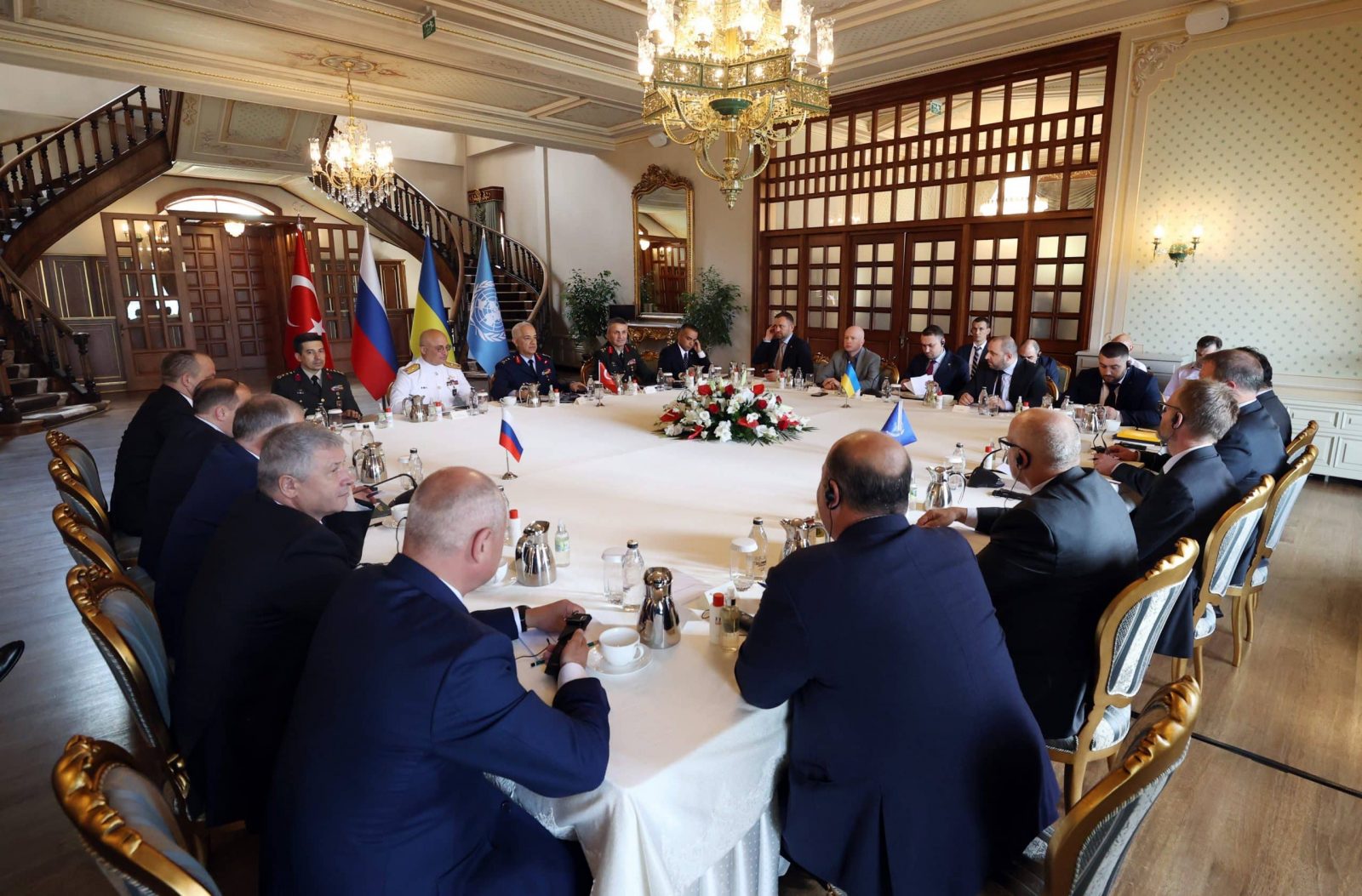 The four-way meeting with Russia, Ukraine, UN and Türkiye delegations in a bid to resolve the grain crisis in the Black held in Istanbul Türkiye.
The military delegations of the Ministry of Defense of Turkey, the Russian Federation and Ukraine and the United Nations delegation convened in Istanbul on July 13 in a one and a half-hour meeting regarding the safe shipment of grains and foodstuffs waiting in Ukrainian ports by sea.
The first face-to-face meeting over grains comes as food prices soar around the world due to Russia's invasion of Ukraine and its grain embargo prompting concerns over the food crisis.
Russia and Ukraine produce approximately 30 per cent of the world's grain exports.
It is estimated that up to 25 million tons of grain are blocked at the ports of Ukraine and at least 20 merchant ships are waiting to transport the products in question.
The focus is safe corridors
The United Nations (UN) proposes that commercial ships should pass through the safe corridors opened between the mined areas, especially the Odessa port.
"Russia presented a package of proposals for the speedy transfer of the export of grain from the Black Sea ports" the official representative of the Russian Defense Ministry, Igor Konashenkov said ahead of the meeting to Russia's agency.  Russia demands the ensurance that the ships not carrying arms-aid for Ukraine through the corridor.
Ukrainian Foreign Minister Dmitro Kuleba told the Associated Press (AP) before the talks that grain exports from his country's ports won't resume without security guarantees for ship owners, cargo owners and Ukraine as an independent nation. He added any agreement needs to ensure Russia "will respect these corridors, they will not sneak into the harbor and attack ports or that they will not attack ports from the air with their missiles."
Ukraine-Turkey relations hit by ship crisis
Last week a controversial cargo ship that Ukraine alleged was carrying stolen grain from the country caused a diplomatic dispute between the two countries.
Ukraine asked Türkiye to seize a Russian-flagged cargo ship arguing that it carries grains from Russian-occupied Berdyansk.
Following investigations, Turkish authorities allowed the ship to leave from Karasu port to Russia, prompting reactions from Ukraine.
Foreign Ministry Spokesperson announced on July 7, that "In connection with the unacceptable situation, the ambassador of Turkey in Kyiv was invited to the Ministry of Foreign Affairs of Ukraine."