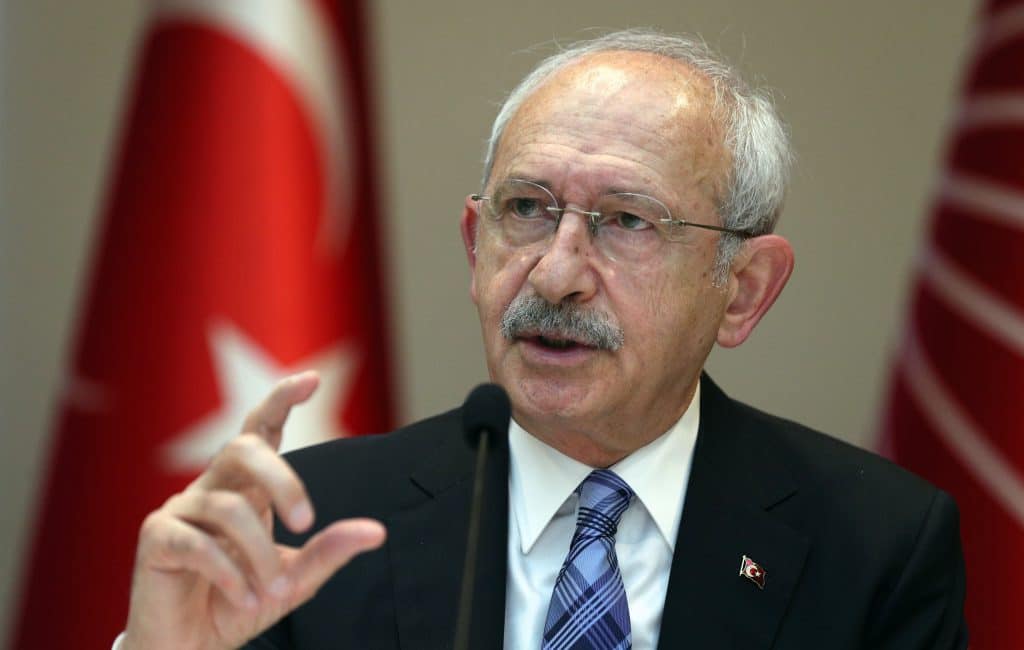 Türkiye has become dependent on Russia for energy with natural gas and President Tayyip Erdoğan has surrendered in every field, main opposition Republican People's Party (CHP) leader Kemal Kılıçdaroğlu said after Russia's Rosatom announced that they terminate the agreement with Turkish company İçtaş Energy for the construction of Akkuyu Nuclear Power Plant in Mediterranean coast of Türkiye. 
The CHP leader's comment came before Rosatom announced that they made a new contract with a company that looks like Turkish but in fact a consortium of three Russian companies. It was also before İYİ Party leader Meral Akşener called out Ministry of Energy to "nationalize" the plant. 
"Türkiye has become dependent on a country in terms of energy, it has become dependent on Russia" Kılıçdaroğlu said to Yetkin Report on Aug. 1 adding, "If you become dependent on energy policy, it will not be possible for you to follow an independent economic policy".
Akkuyu Nuclear Power Plant has been under construction since 2010 with Rosatom subsidiaries to build four reactors at the site of the Mediterranean. The Russian state agency announced on July 29 that they terminated the construction agreement with Turkish firm IC İçtaş Energy, and later announced that they awarded TSM Energy with the contract to undertake the remaining construction work. 
92 percent of Akkuyu will be Russian
The 20 billion US Dollar plant project was first undertaken by a consortium of Atomstroy export, another Russian State Company and Turkish Cengiz-Kalyon-Kolin partnership in 2010 as a "build-operate-transfer" system. In 2019 JSC Titan-2 took over the Russian partnership and the Turkish partnership contract was terminated on the ground that they did not fulfil their obligations, transferring the contract to IC İçtaş with 50 percent share. 
Following Rosatom's announcement that they awarded TSM Energy after terminating IC İştaş's contract, Oda TV journalist Toygun Atilla report that TSM was a consortium of three Russian companies: Montajno-Stroitelnoye Upravneliye and Sosnovoborel, the Russian contractor of electro assembly and construction, Titan-2. 
"Akkuyu will be the first project in the world that is constructed with a 'build operate and own' model," Kılıçdaroğlu said, underlining that with the new contracts, "99,2 percent of Akkuyu's construction, operation and ownership will be of Russia's state-owned Rosatom's."
"It is expected to meet 10 percent of Türkiye's electricity needs when it is finished. 35 percent of Türkiye's natural gas imports are from Russia. Türkiye has become highly dependent on Russia for energy with natural gas," he said. 
The most expensive guarantee
According to the power purchase agreement made between Türkiye and Russia, Türkiye's state electricity company TETAŞ has guaranteed the purchase of 70 percent of the power generated from the first two units and 30 percent of the remaining units for 15 years at a price of 12.35 US cents per kW·h and the remaining power will be sold in the open market by the producer.
"The World's most expensive electricity. The most expensive state guarantee" Kılıçdaroğlu said, adding that this price "will be a huge burden on the Treasury and people."
"Half of the electricity in Türkiye is produced in power plants with imported natural gas and imported coal inputs. Therefore, as the Turkish lira depreciates, the cost of electricity generation increases. And this process will continue until 2024," CHP leader said, criticizing the ruling AKP government's monetary policy for the "reason that the electricity prices being currently too high."
"It is said that now there is a crisis, it will be 14 cents in Europe. The warranty given to Akkuyu lasts until 2040. By 2040, there will be a major transformation in renewable energy. It is a fact that the costs of renewable energy are constantly falling," he said, criticizing the current government of "not being able to foresee the future energy possibilities." 
Cheaper to buy the electricity from Russia
"If they give nuclear technology, we'll accept it anyway. We insisted while being discussed in the Parliament, we made a proposal to add the condition of nuclear power generation technology transfer. But the AKP did not accept it. Construction technology is okay, but nuclear technology is not shared. There are sections in the facility where Turkish engineers, technicians and workers are not taken," CHP ladder said. 
Another point he underlined was that about "the problem of waste", as he states that there are questions to be answered about the dealing with the nuclear waste. 
"How will it be sorted? We don't know that. The public is not informed in this regard," he said. 
Kılıçdaroğlu said that if the plant were built in Russia and Türkiye would buy the electricity directly from them the cost would be cheaper "since this is the new generation power plant that Russians are building for the first time, there will be no technology transfer. In addition the process would be open to international competition."
"Imagine that a nuclear power plant is being built in your country, the owner is someone else, the operator is someone else, and it will not transfer it to you after a while, it will be completely their property. The first and only in the world. It is like you have no power on a plant in your own country," he said. 
"Türkiye should not be mistaken for a colony"
The main opposition leader harshly criticized President Erdoğan's political moves stating that the economic situation "has taken Erdoğan to be surrendered in almost every area in terms of state assets."
"Treasury is almost empty, the Central Bank has a 54 billion dollars deficit. He bows before foreign leaders whom he had been insulting a day before," he said. 
"Russia or any other country should not take courage from this situation and think that Türkiye is almost a colonial country. We will not allow such unlawfulness in our term at the government. This country experienced its worst days during the War of Independence. When the Republic was founded, we sold eggs and established a cement factory, but we did not open our hands to anyone, we were not dependent," he said. 
"He (Erdoğan) is doing all this to stay in power. We also hear that there are some supporters around him who say that they will be overthrown and they try at least not to leave anything to the successors. In this case, of course, those who run their own unlawful businesses freely in Türkiye through Erdogan do not want Erdogan to leave."
Speculations in Ankara
One of the factors behind the Russian state energy company Rosatom's move before President Tayyip Erdoğan met with Russian President Vladimir Putin in Sochi on August 5, is the Treasury aspect of the issue. At first, the "210 billion dollars is coming from Russia" speculation debunked quickly. Now, it is $ 9.1 billion that is speculated to be transferred from Gazprombank to Rosatom, which holds the management in Akkuyu. Since they are all state-owned companies, it can be said that Moscow transferred money from one pocket to another. So, how will it get into the state's coffers?
An anonymous source said: "According to Banking Regulation and Supervision Agency (BDDK) data, it seems that $2 billion entered the banking system on July 27 from Rosatom for Akkuyu. On July 28, the amount of SWAP made by the banking system with the Central Bank (CBRT) increased by 2 billion dollars. It turns out that the money from Rosatom was transferred to the Central Bank."
Within the framework of this information, will the money coming from Rosatom be released to the market to prevent the exchange rates from increasing further? More questions.
The situation in Akkuyu and İçtaş
Rosatom terminated the contract of İÇTAŞ, its engineering-contracting partner in Akkuyu, on July 29, right after the first payment entered the Turkish banking system on July 27 and 28, and announced an agreement with the Turkish-looking Russian partnership TSM Enerji, İnşaat Limited Şirketi.
IC İçtaş made a written statement on August 1, saying that Rosatom's move was unlawful, they would not accept this fait accompli. They added that they would appeal to any legal action possible emphasizing that in accordance with the fifth paragraph of Article 5 of the Inter Governmental Agreement (ISG) signed between Türkiye and Russia in 2010, the consent of the Republic of Türkiye should be obtained in such actions. 
If this is the case, there are two possible scenarios:
First, Rosatom applied to the government of President Erdogan, got the approval of the Ministry of Energy to terminate the contract of İçtaş; but the government does not reveal that. Second, Russia is after a fait accompli without even needing to get approval from the government, with the logic of "We'll get what we want anyway". Maybe they think that "there are issues like Syria and Ukraine on the agenda of Erdogan and Putin," and it is not time for this.
Both scenarios are worse than the other.