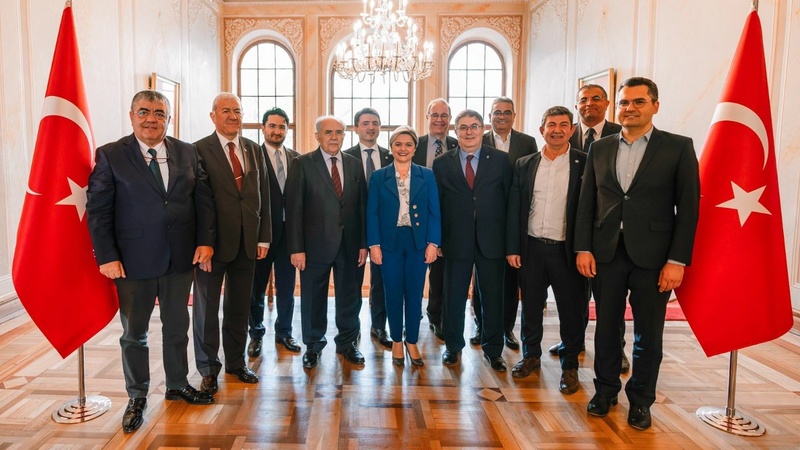 As Türkiye is set to hold its critical election on May 14, the opposition "Nation Alliance" presidential candidate and main opposition CHP leader Kemal Kılıçdaroğlu held one of the most important rallies of his election campaign on May 6 in İstanbul, Maltepe along with the other five opposition leaders and the Ankara and İstanbul mayors who are alliance's vice-president candidates.
In fact the schedule for the grand-rally was on May 7, the same day that President Tayyip Erdoğan also hold its İstanbul rally at the demolished Atatürk Airport, now converted into a "Nation Garden." Both leaders with a day apart showed off their strengths with the thousands they had gathered. Both are key events as Istanbul will be the main battleground of the May 14 election with 11 million registered voters of some 60 million total voters.
What I want to draw attention to in this article is the rather quiet "economy cadre" meeting of the National Alliance parties hours before this critical rally.
Two economists from each of the six parties attended the meeting held at the municipal facilities in Emirgan, Istanbul. The meeting was attended by CHP Secretary General Selin Sayek Böke, CHP Spokesperson and Deputy Chairman Faik Öztrak; DEVA Party Economic and Financial Policies Chairman İbrahim Çanakcı and Industry, Entrepreneurship and Digital Transformation Policies Chairman Burak Dalgın; Democrat Party Economic Affairs Chairman Bülent Şahinalp and General Administrative Board Member Ali Arif Aktürk; Head of Economic Policies of the Future Party Kerim Rota, and Party Spokesperson Serkan Özcan; Head of Economic Policies of the IYI Party Bilge Yılmaz, and İYİ's Chief Advisor Birol Aydemir, Deputy Chairman of the Saadet Party Sabri Tekir, and  Member of the General Administrative Board Musa Öztürk.
If elected president, CHP leader Kılıçdaroğlu will present his economic policy do's and don'ts, and some of them will be part of his cabinet.
Timetable for the economy
The statement issued after the meeting included some important topics that the economy world, domestic and foreign investors have been complaining about for some time. Some of them are as follows:
– Freeing the Central Bank from political influence to fight inflation,
– Rule of law, security of law and judicial independence,
– Predictable business and investment environment, realistic targets,
– Working with qualified, meritorious, honest and experienced staff,
– The Situation and Damage Assessment Commission to identify hidden gaps in the public sector,
– Preventing waste in the public sector and a new tax policy.
But in my opinion, in addition to all these, the statement in the preamble of the declaration was important:
"Prioritization and implementation timetable have been set for the post-election implementation of the economic measures."
It will be recalled that on May 15, Bilge Yılmaz, a member of the IYI Party, whom Kemal Kılıçdaroğlu will probably include in the cabinet as Treasury Minister if he wins the election, suggested that the government should announce in advance (preferably on May 8) what will be done in case of interest rate and foreign exchange shocks that may occur in the markets.
Kılıçdaroğlu's stock market warning
It is clear that Kılıçdaroğlu took Yılmaz's warning seriously.
As a matter of fact, in a message he posted on Twitter after the meeting of his economy staff, he warned those who manipulate the Istanbul Stock Exchange and hit small investors, saying that he would order an investigation into the stock exchange on the morning of May 15, if he wins in the first round on May 14.
Borsa Istanbul, is under the control of the Türkiye Wealth Fund (TWF). The Borsa İstanbul is also headed by Erişah Arıcan, Vice President of TWF. Kılıçdaroğlu also promises that if he and the Millet Alliance win the election, the TWF will be abolished and investigated.
However, this message in itself is a warning against market sabotage in the immediate aftermath of the election.
As a matter of fact, Barış Soydan on the 10Haber website points out that the Istanbul Stock Exchange has lost 10 percent of its value in the last month despite Treasury and Finance Minister Nurettin Nebati's directing citizens to the stock market, and that the value losses have reached 20 percent since the beginning of 2023.
It is also clear that the Millet Alliance has activated early warning radars on sensitive issues such as the economy staff.
So, if the People's Alliance wins the elections, with which staff and within which policy framework does it plan to continue?
Şimşek, Yılmaz, Elvan, Kavcıoğlu
It is clear that Nureddin Nebati will not sit in the Treasury and Finance seat if Erdoğan wins the election.
So, who will? And will it make any difference to the course of economic policy?
As far as we know, Erdoğan received two rejections from Mehmet Şimşek, previous Tresury Minister who parted the AKP cabinet and had been targeted by Erdoğan publicly. Although Şimşek refused to take part in the future cabinet after Erdoğan's call, citing "busy work" as the reason, AKP sources still say "he will help us", and judging by the fact, Erdoğan still hasn't given up hope on Şimşek.
Erdoğan and his "yes sirs" think that if he includes Simsek, who is in touch with London financial circles, in his team, international capital, which knows enough about Türkiye under his administration, will suddenly think that Türkiye has returned to "orthodox" politics.
Şimşek's return is a matter for his own conscience and stomach, but there are some replacement names being discussed in Ankara. For example, Lütfü Elvan, whom he appointed after his son-in-law Berat Albayrak. Cevdet Yılmaz, the chairman of the Parliament's Planning and Budget Commission, who was previously a minister. For example, Şahap Kavcıoğlu, the Governor of the Central Bank of Türkiye, whom Erdoğan admires saying that because "he obeys".
Beştepe's economic staff
They have all been tried before. Erdoğan cannot come up with new names. It is clear that no matter who he puts in charge of the economy, he will be at the helm and will continue with the current economic policy with fine-tuning.
One can't help but wonder: Why does Erdoğan always insist on tried and tested names, but doesn't think of utilizing his chief economic advisors at Beştepe, such as Yiğit Bulut or Cemil Ertem, as ministers? Or Erişah Arıcan, who has so far refused ministerial posts?
Burak Dalgın of the DEVA Party, who is part of the Millet Alliance's economy team, says: "The fact that Kılıçdaroğlu was able to bring together such a team from different views, fields and experiences" is "an achievement even before winning the election."
If the opposition wins the elections, its economy staff and scenarios are becoming clear, but the government's are not.
Ten days to critical election, color of politics in Türkiye is shifting