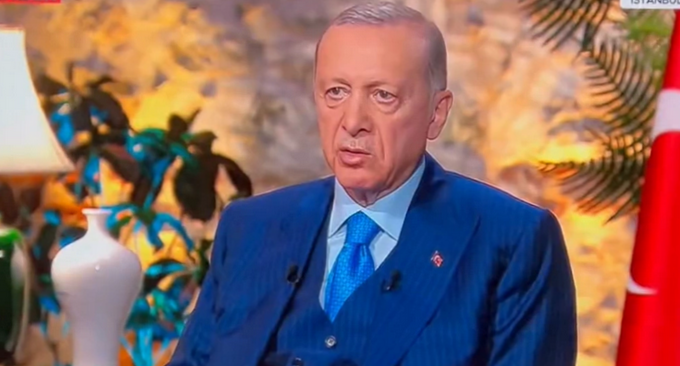 As Türkiye is set to hold the run-off presidential elections on May 28, the two runner-up camps of President Tayyip Erdoğan and CHP Leader Kemal Kılıçdaroğlu have further harshened their rhetoric towards nationalism.
Erdoğan for example, escalated his accusations against Kılıçdaroğlu arguing that he has the support of the outlawed PKK.
He even admitted on live TV on May 22 that he used fake videos in his campaign rallies to persuade voters, insisting on his accusations and stirring a debate.
"Montage or else, they made videos with PKK," Erdoğan said, which was scandaleous.
Kılıçdaroğlu also left his soft discourse, calling Erdoğan a "fraud" after that statement, and accusing him of giving support to outlawed parties such as Kurdish Hezbollah by accepting HUDA-PAR to the People's Alliance of the ruling AKP and MHP.
Montajcı sahtekar. https://t.co/8P0VanXtFj

— Kemal Kılıçdaroğlu (@kilicdarogluk) May 22, 2023
Oğan effect: Syrian issue
Their race in nationalism stems from the third contestant of the presidential elections: Sinan Oğan who collected unexpected 5 percent votes in the first round as a candidate of the ATA Alliance, whose main rhetoric was to oust Syrian refugees from Türkiye and became the center of attention in political calculations.
He had already revealed his intentions to negotiate with both presidential candidates after the first round, leveraging his votes. As expected, the first week after the election, he and his ATA alliance were on stage, having meetings with both alliances, however, the result was not as they expected.
Alliance has fallen out, and with Oğan's announcement of his support for President Tayyip Erdoğan on May 22, another virtual actor of the 2023 presidential election campaign has left the stage.
It was not clear how his support would benefit CHP leader Kemal Kılıçdaroğlu, or Erdoğan. However, the problem that made Oğan shine on the political scene remains: Erdoğan's dilemma with Syrians in Turkey.
A cold day in July
The statements and discussions on the issue of Syrian refugees alone show that the issue is likely to have an impact on the elections – unfortunately more than the earthquake disaster.
"One of Turkey's most important problems, the issue of 'asylum seekers and fugitives', now has a 'timetable' and this timetable will start to work as soon as possible. All conditions will be pushed for the safe repatriation of asylum seekers in our country within a timetable. Measures to prevent illegal crossings through our borders will be maximized," Oğan said in his press statement announcing his endorsement of Erdoğan.
But his words were not a fact, but only a wish. In other words, neither President Erdoğan nor AKP officials have publicly announced a timetable or a plan for the return of Syrian refugees.
As a matter of fact, the issue of Syrians came up during the daytime meeting between ATA Alliance's Zafer Party Chairman Ümit Özdağ and AKP Deputy Chairman Numan Kurtulmuş.
"It is clear that there are differences between us," Özdağ summarized the situation.
According to Kurtulmuş, "progress was being made for a safe and dignified return"; if "God willing, normalization in Syria" could be achieved, there could be a return.
This was like giving a timetable for a cold day in July, because just the day before, Syrian Foreign Minister Mikdat Faisal had said that normalization with Türkiye would only be possible if the Turkish army left Syrian territory.
Erdogan's Syrian dilemma
Moreover, Faisal made this statement after Saudi Crown Prince Mohammed bin Salman embraced Bashar al-Assad at the Arab League meeting in Cairo, where Syria was recognized for the first time since the civil war broke out in 2011.
And what did our Foreign Minister Mevlüt Çavuşoğlu, who met with Faisal in Moscow on May 10 at the request of Russian President Vladimir Putin to Erdoğan, say about Syria and Syrians?
"It would not be right to say that we will send all the migrants away," he said; Çavuşoğlu's father was complaining that he could not find a shepherd. Turks no longer wanted to be shepherds, Syrians were doing it. For much lower wages, of course.
Çavuşoğlu's remarks echoed AKP Deputy Chairman Mehmet Özhaseki's objection that "if Syrians leave, the economy in some Anatolian cities will collapse."
But Erdoğan's dilemma with Syrians is not limited to cheap labor, nor is it limited to winning voters at critical points by selling citizenship through real estate.
There is also the FSA problem
Since 2011, Erdogan has supported armed groups aiming to topple the Assad regime in Syria. Most of these were jihadist, Salafist groups. After the July 15, 2016 coup attempt, operations in Syria began, and the construction of a wall on the border began. By this point, an estimated 5 million Syrians had crossed into Türkiye. After Russian jets killed 34 soldiers in early 2020, Erdogan abandoned his goal of toppling Assad.
Syrians in Turkey are not homogeneous. Some are still in Syria fighting for the Turkish government's former Free Syrian Army (FSA), now called the Syrian National Army, while their families are here. "If we tell them to leave, they won't leave, they might rebel against us this time," an official source said during our conversation, summarizing the extent of the trouble Türkiye has gotten itself into.
Veli Ağbaba of the Republican People's Party (CHP) suggested a more alarming dimension yesterday. There are now Syrians in the Turkish Armed Forces. On the one hand, when you give citizenship, you give the right to vote as well as the right and duty of military service. On the other hand, you understand why the issue of Syrians has become one of the burning issues of the election.