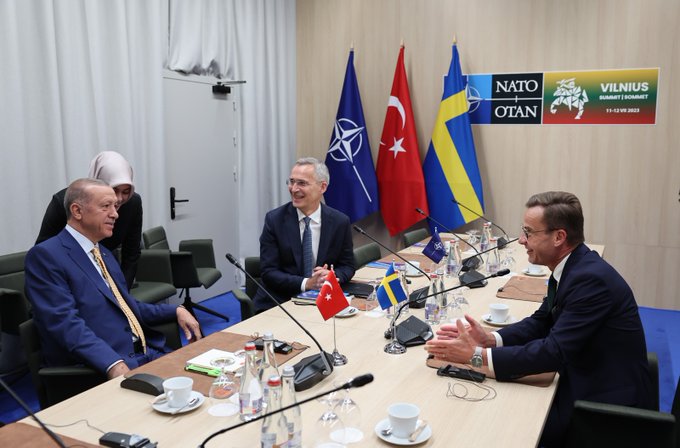 President Tayyip Erdoğan left Türkiye on July 10 to attend NATO Summit in Lithuania saying, "First pave the way for Türkiye in the European Union, and then we will pave the way for Sweden."
After a two-hour flight, he landed in Vilnius, the capital of Lithuania, where the summit will be held on July 11-12.
He met with NATO Secretary General Jens Stoltenberg and Swedish Prime Minister Ulf Kristersson.
Soon after, Stoltenberg announced that Erdoğan had "green-lighted" Sweden's NATO membership. Erdoğan had told his interlocutors that he would transmit the Accession Protocol for Sweden to Turkish Parliament and that "there would be no problem". A seven-article protocol was also signed, which the NATO General Secretariat immediately published.
Turkish Parliament will be adjourned this week for summer recess. Will Erdoğan try to pass the Swedish ratification before the summer recess, or will he wait until the fall to fulfill his promises? But the immediate crisis in NATO is over. Sweden's NATO membership has strengthened the US and EU's hand against Russia. From the Western point of view, Türkiye has decided to be "part of the solution, not part of the problem", at the risk of angering Russian President Vladimir Putin.
But outside this general framework, has Türkiye been able to make good use of its once-in-forty-years veto trump card? What did Erdoğan get that Türkiye put on the table as its demands, and what did Türkiye end up with other than a well done, promises and advices?
Sweden promises that Erdoğan got
Erdoğan's unexpected EU outburst before leaving Istanbul suggested that Türkiye was determined to use its NATO veto on the EU as well, even if Sweden fulfilled its anti-terrorism conditions, which Ankara deemed not enough.
What had changed in the intervening hours? For example, did something happen to "pave the way" for Türkiye's EU membership process?
On the contrary, German Chancellor Olaf Scholz immediately rejected Erdoğan's seemingly restrictive demand saying "What does it have to do with anything?".
The sixth article of the seven-point plan was a promise that Sweden would support efforts to revive EU membership, "including the modernization of the Customs Union and visa liberalization."
Türkiye's former president and 1980 coup d'etat's General Kenan Evren once said that when he approved Greece's return to NATO's military wing just after the military coup of September 12, 1980, the US NATO commander had given a "military promise" that Türkiye would be admitted to the EU (then called the EEC). The commander retired 6 months later.
This must be a Swedish promise too.
Even if Sweden joins NATO with Türkiye's approval, Türkiye will not join the EU only with Sweden's approval.
Anti-terror promises
So, in those few hours of air travel, did Sweden extradite any of the PKK members or Fethullahists that Erdoğan's cabinet wanted to Türkiye? Because on January 15th of this year, Erdoğan had made the following restraint: "In order for this to be passed by the parliament, first of all, you need to give us these terrorists, more than 100, around 130, including the lists. Unfortunately, they could not do this."
During the Istanbul-Vilnius flight, did Sweden hand over any of the "more than 100, around 130" names mentioned by Erdoğan to the judiciary or send them to Türkiye? As far as we know, no.
Sweden did not do "nothing". At Türkiye's request, for example, it changed its anti-terrorism law, including amending the constitution, which is included in the seven-article protocol. Hakan Fidan, the Foreign Minister, has been fussing about translating the legal change into concrete steps, but I guess he was convinced too.
I have to say that during the election process, the ruling media kept writing that if Kemal Kılıçdaroğlu won the presidency, he would give his approval at the NATO summit without waiting for an extradition from Sweden, because the US wanted it that way. Has it been very different? And the day after his phone call with US President Joe Biden…
Gains for Türkiye and NATO
The result, which was announced as a diplomatic victory in the headlines of the ruling media today, is actually a list of promises.
Nevertheless, there are two items in the seven-point protocol that can be considered positive for Türkiye. One is the statement in Article 3 that "Sweden reiterates that it will not provide support to YPG/PYD, and the organisation described as FETÖ in Türkiye." Thus, the names of the organizations were mentioned in a NATO document within the framework of the fight against terrorism. It is not the promise that I care about, but it is a fact.
The other is the promise in Article 4 that "by the Secretary General establishing, for the first time at NATO, the post of Special Coordinator for Counter-Terrorism." If it is established, we will see how it will work.
The reminder in Article 5 that "there should be no restrictions, barriers or sanctions to defence trade and investment among Allies" is, in practice, empty talk. After all, NATO allies such as the US, Germany and Norway have imposed sanctions on the sale of military equipment to Türkiye at various times.
The most concrete example is the US excluding Türkiye from the F-35 program on the grounds that it had purchased S-400s from Russia, and then refusing to meet its request to purchase F-16s.
Erdoğan Biden meeting: F-16's
Erdoğan will enter his meeting with US President Biden without the Swedish trump card. The sale of F-16s and US support for PKK-linked organizations in Syria are the most important issues for Türkiye.
What will Biden say? For example, will he go into democratization and human rights issues that are also important for Türkiye's relations with the EU, such as Osman Kavala and the Gezi Trials? Or will he try to maximize US national interests by recognizing that he is facing an Erdoğan who has won the elections again and has a parliamentary majority, and in the meantime give Erdogan something to tell the people?
We will look at that tomorrow, it seems.