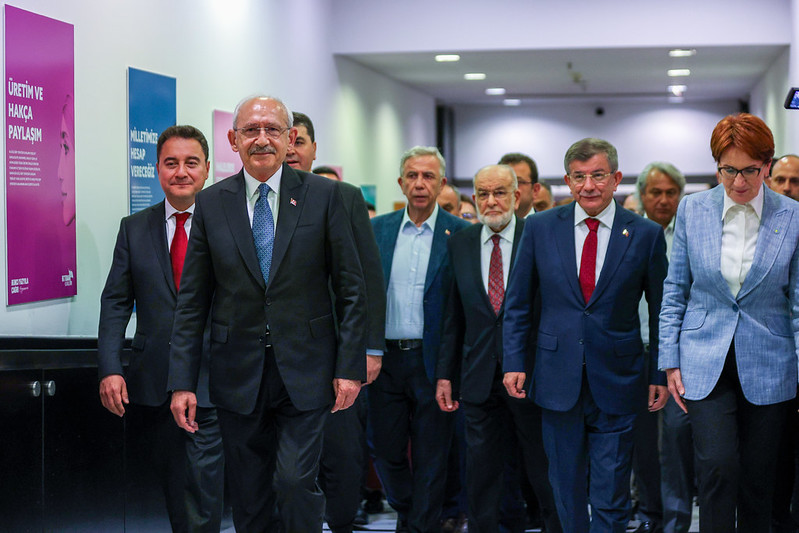 According to polling Metropoll's post-election survey, 23 percent of those who voted for President Recep Tayyip Erdoğan's coalition and 29 percent of those who voted for the opposition want another party they could vote for. Truly, there is a part of society that is unhappy with the way the country's progress in the rule of law, democracy, and the economy, who have lost faith in politics, and who were disappointed by the lack of change wrought by the election; I observe that the scattered groups are in search of a way out and for a new political leader.
Distrust of oligarchic politicians in Turkish politics
These self-mobilising groups rightly worry about Türkiye's future and the possibility of it becoming an autocratic underdeveloped country as they are unable to trust the stock of current oligarchic politicians.
It is because oligarchic politicians have portioned between themselves the state's various institutions out of personal greed and benefit that our country lurches back and forth. On the threshold of its second century, our republic has regressed from being the middle-democracy it was in 2016 and is now an elective autocracy. Our GDP per capita, which reached $15,000 following the democratisation brought about by the pressure of international creditors that followed the 2001 crisis, has now fallen, like our democracy, to nearly half that figure at $8,000.
Towards advanced democracy and prosperity
They want to quickly transform Türkiye into a free, prosperous, advanced democracy by bringing about the below structural reforms desired by so vast a majority of the wider public, bar the oligarchic politicians and their cliques:
Make the judiciary completely independent from the executive and legislative branch; capable of providing high quality judicial services; bring into total compliance with the rule of law; and to protect fundamental rights and freedoms; especially protecting and strengthening the freedom of expression,
To effectively restrain and hold the executive to account via the judiciary and legislature; to increase the Grand National Assembly's (TBMM) capacity to hold the executive to account and thus bring their relationship back into balance,
To establish autonomous institutions that formulate basic policy in areas such as education, the economy, national security, and foreign relations, and to enable a high degree of participation in their governance.
Erdogan's fevered experiments and Şimsek
It is not realistic to expect AK Party or Erdogan to realise these reforms and transform Türkiye, since it is clear he will relinquish neither the Presidency nor his party's leadership.
Recep Tayyip Erdogan, who has ripped up the concepts of a central bank and price stability with his fevered public and monetary policy, cannot even be trusted to return the economy to rationality. How far will Erdogan tolerate Şimşek's decisions? After all, it was he who dismissed Şimşek a few years ago, and now beseechingly called back. Aware that he may be sent back from whence he came at the drop of a hat, what reform can Şimşek really institute? Which of the radical decisions so direly needed by the economy can he take with any degree of confidence?
The answer to it all lies between Erdogan's two lips. With a midnight decree and a stroke of a pen Erdogan could remove Şimşek and his entire team from their roles and could even withdraw from international accords ratified by the Grand National Assembly (TBMM). He may well cause a further fall from prosperity by further weakening state entities through their politicisation, and further autocratising the state to bolster his own ailing personal clout.
And now, to the opposition front…
In summary, distrust in the ruling front has reached a record high. Whereas the opposition who suffered such a heavy loss at the polls and condemned the country to another five years in the hands of the incumbent government can't even provide the slightest glimmer of hope to these groups. The IYI Party can't be expected to bring about this transformation either, given that they cannot consolidate the trisected nationalists and attract the grassroots of the AK Party while Erdogan continues to be at the helm of the AKP.
Where the others do not give even a glimpse of hope and while the mainstream media and the regulating authority RTÜK is under the ruling parties' control it would seem that there is no hope of a new party emerging. As such, hopes for Türkiye's transformation into an advanced and prosperous democracy are pinned on reformation of the Republican People's Party (CHP) into a platform that can attract these groups.
But Kemal Kilicdaroglu, with his impossible aspiration to the presidency in service of which he founded the Table of Six coalition, stands alone against such a reformation. Indeed, from the moment the coalition entered existence he delayed the nomination of a neutral and common candidate, finally forcing acceptance of his own candidacy upon Meral Akşener as a fait accompli.
Even those closest to him are openly saying that the change must start with him. And yet, Kilicdaroglu, who is himself an autocratic party leader, has stubbornly rooted himself in place against change, despite having replaced all those around him. He may yet succeed in this if the delegates he chose remain loyal to him.
Will Erdogan give İmamoğlu the chance?
At first glance, the strongest candidate who could challenge Kilicdaroglu is Ekrem İmamoğlu with the rallying cry, "Change is the only constant." If he is unable to succeed in his bid for the chairmanship of the CHP it will not be his only loss; he will also lose the mayorship of Istanbul: the greatest source of his power.
On the other hand, while seen prior to the elections as the potential David to Erdogan's Goliath, İmamoğlu's political fate lies, due to his influence over the judiciary, in Erdogan's hands. It can be deduced that Erdogan will put forward his candidacy in the 2028 presidential elections, although it would be a violation of the constitution, from the fact that he secured his candidacy this past election. There can simply be no doubt that Erdogan will not allow İmamoğlu emerge as a rival.
İmamoğlu, carrying the threat of political ban like a noose round his neck, has a monumental task if he is to transform Türkiye. It will not suffice for him to topple the leader of the CHP. First and foremost, he must reform the CHP into a platform that rises above party politics, and he must secure the transformation of the extant oligarchic political structure. In order to do this, he must present a forward-thinking vision, come up with a trustworthy strategy, draw a roadmap to win the support of those looking for a new party and a new leader, and finally persuade all the political sects. As long as the current oligarchic political structures found in the CHP and in other political parties remain unchanged it will make no difference whether İmamoğlu or Kilicdaroglu leads their party.
Pioneering candidates' difficult task: ending the oligarchic structure
The difficult and necessary task that İmamoğlu and any other pioneering candidates that may emerge face is to cultivate the trust and sense of ownership of their vision in these groups that seek a new alternative to the governing and opposition parties. That said, the most urgent and important obstacles to them doing so are the prevailing oligarchic, unaccountable, and corrupt politics and political class.
To be able to transform Türkiye these pioneering candidates must give primacy to ending oligarchic politics; they must chasten and change politicians.
The first step that needs to be taken is to ensure that no one, including politicians aspiring to public administration and public officials, is above the law. To achieve this the measures below must be taken:
Creation of a code of political ethics, and codes of conduct for politicians and public officials;
Creation of a specialised supreme court of justice to freely investigate and prosecute crimes committed by high level public officials such as MPs, ministers, the president etc;
Democratisation of the oligarchic Political Parties Law to curtail the powers of party central management councils, abolish the delegacy system; outlaw block voting; tie party politicians' career progression to merit and inject dynamism into oligarchic political parties;
Separation of electoral districts from central administrative regions; homogenisation of electoral districts along the lines of the extant economic development zones so as to reduce as much as possible the number of residual votes and thus soundly reflect the nation's will in its government.
Change in need of a pioneer
A visionary leader that champions the purpose and goals of these groups burning with the desire to take Türkiye to a new level could, by a large margin, secure a resounding victory in the 2028 elections. They may even usher in a period of transformation comparable to that seen under the leadership of the late Turgut Özal.
As for who this prospective leader will be, Seda Demiralp writes in the YetkinReport that "the opposition needs an inspiring and riveting leader, but we can't see whether they will come from a party or a completely different and new political movement".
Translated by Charles Ediz Gün