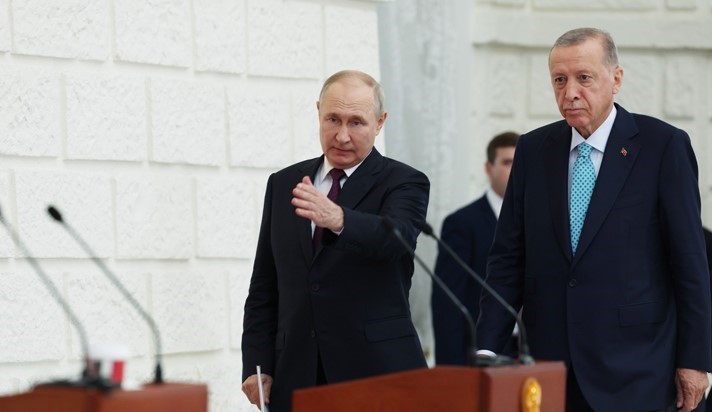 Let's be clear. It was already clear from Foreign Minister Hakan Fidan's contacts with Ukraine and Russia that President Tayyip Erdoğan would not be able to convince his Russian counterpart Vladimir Putin to return to the grain deal at the Sochi meeting on September 4. Diplomatic sources considered it a miracle if the issue was resolved in Sochi.
Because Russia did not see Türkiye as the source of the problem. The UN Secretary General had promised, but failed, to convince the US and the EU to ease sanctions so that Russia could export grain and fertilizer like Ukraine. In Putin's eyes, Erdoğan was a reliable channel of communication between NATO and Russia, and according to what he said after 3-hour meeting (1.5 hours face-to-face), he still is.
Erdoğan did not necessarily win the election just because Putin gave him 20-odd billion dollars in relief through shares in the Akkuyu Nuclear Power Plant and the postponement of BOTAŞ's natural gas debts. But Putin was clearly trying to influence the Turkish elections in favor of Erdoğan in this way. Now, will the new gas deals wipe out the old debts? And in exchange for what?
Meanwhile in Ankara
The answers to these questions will not be forthcoming immediately, but Türkiye has little time to lose in finding external funding to get out of the economic crisis.
The fact that Erdoğan's Sochi delegation included Treasury and Finance Minister Mehmet Simsek and Central Bank Governor Hafize Gaye Erkan suggests an effort to convince Russia to support Türkiye more. Erdoğan and Putin have agreed to use lira and rubles in trade, not dollars, but the "unstable" course of the Turkish lira raises questions even in Russia, which is under sanctions and under a state of war.
While Erdoğan and his delegation were in Sochi, TurkStat published the inflation rates for August. It turned out that the annual inflation rate increased by 11 points in one month to 59 percent. In August alone, consumer inflation had risen by 9 percent; in July it had risen by 9.5 percent. Economic commentators found the figures more realistic; they showed the pessimistic picture more clearly.
"The fight against inflation will take time. It will be worth our patience," Şimşek said in his statement on social media.
How was TurkStat convinced?
But what had happened that TurkStat suddenly started to release "more realistic" figures? There has been a growing dispute over the veracity of the official data as some economists and critics have been arguing that the official figure do not reflect the actuality.
The claim that Şimşek had phoned TurkStat and told them to "release the real data" was denied; it was reported that no such dialog had taken place between them.
There is no need to caricature the situation. "More realistic" data was needed for the Central Bank to pursue a more realistic monetary policy and for the Ministry of Treasury and Finance to prepare and announce a "more realistic" Medium Term Plan (MTP).
It could be argued that it was actually Erdoğan who was convinced to do so, probably through the efforts of Simsek as well as Vice President Cevdet Yilmaz.
The sudden change in TurkStat figures on September 4 alone indicates that TurkStat was politically prevented from releasing realistic figures in the 2018-2023 period, when President Erdoğan's "interest is the cause of inflation" policy prevailed. This is what has to be changed now.
When and who will announce the MTP?
Vice President Yılmaz has said that the MTP will be announced in the first half of September. Is this before or after the G20 Summit in New Delhi on September 9-10, which President Erdoğan is expected to attend and hold important bilateral meetings? Or, if it falls in the second half, before or after Erdoğan's UN General Assembly in New York on September 17-21 (where he is also scheduled to meet with financial circles)?
Will Yilmaz or Simsek be in charge of announcing the program? Doesn't the fact that Türkiye has been seeking a way out of the economic crises it has faced at roughly 20-year intervals through programs requiring foreign funding show that structural changes are indeed necessary?
"Anti-Şimşek lobby"
The longer the announcement of the program is delayed, the weaker the promise of a "return to rationality"; the gradual method "increases the risk" as economist Fatih Özatay puts it.
After the election Erdoğan was first convinced Simsek to come back to the economy management, then he convinced Simsek to come. And then he allowed him to name the Central Bank Governor. And then he took three important steps:
He allowed the policy rate to be raised gradually,
Allowed the phasing out of FX Protected Deposits,
Now it seems to have lifted the pressure on TurkStat.
Local elections are ahead of us on March 31st.
The increase in the minimum wage and the increase in the salaries of civil servants and civil servant pensioners evaporate as soon as they are announced. Şimşek is telling the truth when he says "it will take time", but the frustration of laborers and retired voters who have to be patient grows with time.
What is important here is that the internatl AKP dynamics can be mobilized amid this discomfort. Fuat Uğur, a columnist, wrote in his column today titled "Can Mehmet Şimşek toppled down by government circles."
I the title is noteworthy.