Germany-Turkey: refugees, Russia and now secularism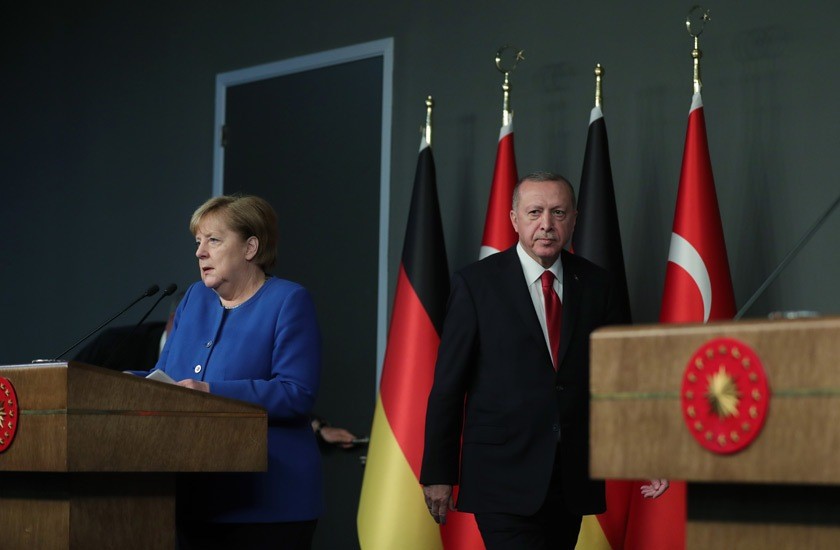 After German Chancellor Angela Merkel's meeting with Turkish President Tayyip Erdoğan in Istanbul on Jan. 24, her Spokesman Steffen Seibert said on his Twitter account that Germany wanted to continue its support to Turkish government regarding refugees from Syria. He added that what Turkey was doing remarkable and Merkel was grateful to Turkey on that issue.
That sounded like an explanation to German public opinion that Merkel's meeting with Erdoğan at a time when Turkey is under the European Union (EU) criticism because of its Middle East and East Mediterranean policies and the quality of democracy was particularly to stop more Syrian refuges from coming to Europe. Especially when Russian pressure on Idlib pushes more refugees to Turkish border and Erdoğan's frequent warnings that he could let them go to Europe.
In fact neither Merkel-Erdoğan meeting nor German considerations regarding Turkey were limited with Syrian refugees; also Turks' were not.
Those that were told and were not
This was Merkel's first visit to Turkey since 2017 with expectations both on Turkish and German sides and opening of some more sections of the Turkish-German University in Istanbul provided a good justification for the visit, especially for Merkel. In their joint press conference, as expected, Erdoğan asked from Germany's help (as the six-month term president from July 1, 2020) for the revitalization of the relations with the EU, more support for taking care of refugees and struggle against terrorism. And Merkel addressed the need for democratic reforms in Turkey with an emphasis on freedom of expression and press, the state of judiciary and the state of German citizens under arrest or denied exit from Turkey.
But the real picture in the current state of Turkish-German relations is more complicated than what were told in the press conference. Merkel, who already declared that she would not be a candidate after 2021, is trying to leave a good legacy to continue the historic ties between the two countries and Erdoğan who wants to attract European investments and markets again is trying to use German leverage, which is not an easy task for Merkel. Perhaps for that reason she also met with Turkish economy and civil society circles when she was in Istanbul. I was at one of those meetings in which general topics involving Turkish-German and Turkish-EU relations were discussed.
The impression I got from Merkel's meeting with Erdoğan based on my contacts with diplomatic sources, on-the-record and background information is as follows.
Two sides of the coin
Merkel has long objected to a full membership of Turkey to the EU, even bringing forward a concept of "privileged partnership," but also standing against any suggestion to cut Ankara's ties with the bloc. It seems that Berlin holds that perspective and has been preventing some EU-member countries' moves to dismiss Turkey from all European institutions.
Germany is obviously uneasy with some issues including judicial independency and freedom of expression and press in Turkey. At the press conference with Erdoğan, Merkel expressed her complaint about that Turkey does not grant press cards and accreditations to some 30 German journalists working in the country. It is understood that some contacts with the Turkish presidency were made on the issue ahead of the meeting but no results yielded. (On the day of the meeting, news went online that the official press cards of several Turkish journalists were cancelled by the Presidency.) Germans also cannot accept the discharge of judges, whose verdicts are disliked by the government, making a note of one of Erdoğan's recent statements where he said "instructions are given" to judiciary on a certain matter.
On the other hand, Berlin is aware that Turkey's neighbourhood with countries like Iran, Iraq and Syria is not similar to Germany's neighbourhood with France, Austria, the Netherlands or others, and geo-strategies should be considered in relations with Ankara. Germany is against any debate on Turkey's current membership to NATO. Two current issues are highlighted as geo-strategic realities, which prove that Turkey should remain in the Western system: Migrants and Russia.
Arms embargo takes Turkey closer to Russia
As she underscored during the press meeting with Erdoğan, Merkel is aware that Turkey has been treated unfairly and it has not received enough support regarding the Syrian refugees. Some articles in German media claim that the reason for such insufficient support is due to Erdoğan government's demand for direct money flow instead of project-based flows to separate institutions, which would contradict with the transparency rules of both Germany and the EU. Still, Germany might give more support Turkey in the Syrian migrants issue within the framework of its own regulations.
I have an impression that the German administration might be questioning its decision with some other EU members to ban arms sale to Turkey because of Ankara's military operation into Syria, the Peace Spring. Germany is in a position to spot that banning arms sales to Turkey has resulted in more defense industry purchases by the NATO member from Russia, getting even closer with Moscow. Has it turned out to be a bad decision or something to be kept as it is? That is a question berlin might ask to itself soon.
Gülenists, PKK members and others
It was known before her meeting with Erdoğan that Merkel would bring the issue of arrested German citizens in Turkey, along others who were handed travel bans, to the table; and in return Erdoğan would reiterate Turkey's demand for extradition of Turkish citizens who fled to Germany following the July 15, 2016 coup attempt and are accused in Turkey of "being a member of FETÖ", in addition to those act on behalf of the outlawed PKK. News reports say that Erdoğan's list of Gülenists includes Zekeriya Öz at large, the prosecutor who once shook the Turkish Armed Forces, universities and media when he used to be among the favourites of the Erdoğan government.
There is still no satisfying answer to the question on how Germany granted asylum to some military staff members of Turkey (and accordingly of NATO) who refused to return to the country after the coup attempt. It has been said by official sources that German laws do not allow the chancellor to submit demands to the judiciary for practices on individuals, and thus some were granted asylum despite they did not deserve it at all. On the contrary, as a proof to the continuation of political dialogue, the release of the Turkish-German journalist Deniz Yücel was presented as an example.
Yılmaz Sunar, a judicial advisor to the German Embassy in Ankara, is still under arrest with suspicions of spying. The German media said last week that the embassy staff also paid a visit to Enver Altaylı, a former member of the Turkish Intelligence Service (MİT), in prison because he is also a German citizen. The reason for the German administration to still have doubts on whether the illegal Fethullah Gülen network that penetrated into the state was really behind the 2016 coup attempt might be the former experience Erdoğan had partly paved the way for the so-called Gülen community members into the government offices in the past.
Rethinking Atatürk and secularism
It is known that Merkel has shown interest in the AKP since its foundation, even before she was elected the chancellor. It appears that the German administration, like many others in the West had considered AKP as an opportunity that would pave the way for better democracy in politics and transparent economy in Turkey. They seem to be convinced that once the military's appetite to interfere with politics could be taken under control, all the problems of Turkish democracy would be solved. Now they observe that the political ambitions of the military is under control, but the democratic standards have deteriorated with respect to the earlier years of the AKP rule where important reform steps had been taken in the framework of the EU harmonisation target.
This impression can be compared to Erdoğan's post-coup attempt statement on his former relations with Gülen, when he said he was "deceived."
There is the perception in Europe and in Germany that that the 2016 coup attempt was used to justify a stricter regime in Turkey, where all executive powers were transferred to the president.
Germans might be rediscovering the importance of the principle of secularism introduced by Mustafa Kemal Atatürk in efforts to root pluralist democracy in a country like Turkey with a dominantly Muslim population. Now any scenario of eroding secular system in Turkey is a matter of concern in Western Europe and the importance of the secular system in Turkey cannot be downplayed by the fact that Kemalizm was used as a pretext for the military coups in the past.
Perhaps the rehabilitation of the secular rule in Turkey is a by-product of the Turkish foreign policy regarding the Middle East following the break of the Arab Spring in 2011 and perhaps the rehabilitation of Atatürk in Western democracies is not that far away.