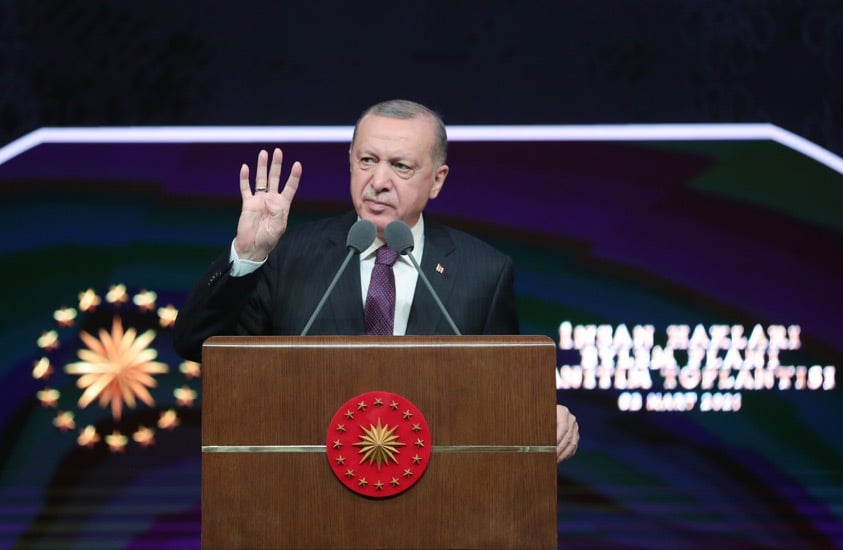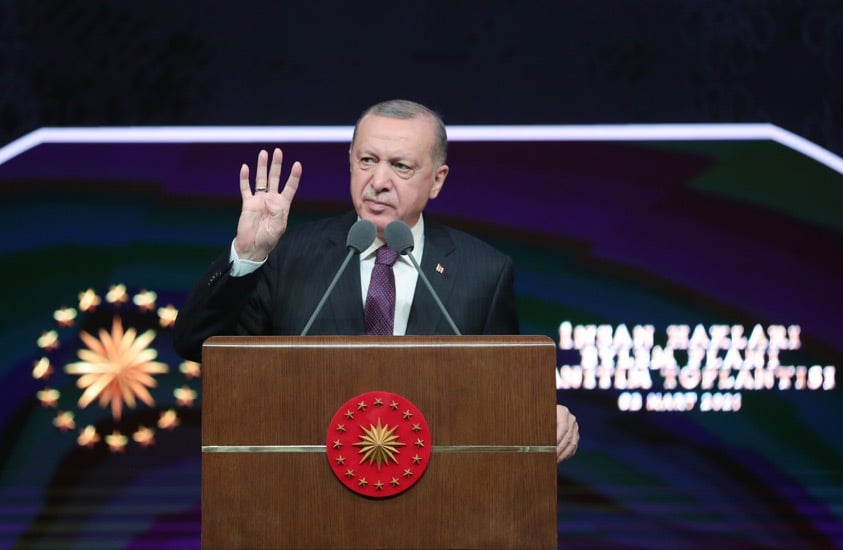 Turkish President Recep Tayyip Erdoğan announced the government's Human Rights Action Plan, which was prepared within the scope of a promised judicial reform package.
The plan, which includes nine objectives, 50 targets and 393 activities, focuses heavily on legislative regulations, pledges improvements in a broad range of fields from freedom of expression to arrest procedures.
The report comes at a time when Turkey faces Western pressure –along with domestic criticism– on rights issues, mainly from the European Union that has already declared that it will act in line with the new U.S. administration in strategic matters concerning Turkey.
The action plan covers a two-year period of practice, which roughly overlaps with a general election process in Turkey, which is scheduled to be held in 2023.
Erdoğan thanked the Justice Ministry at his speech at the Presidential Palace in Ankara, adding that "Almost two years ago when announcing the Judicial Reform Strategy Document to the nation from this venue, we had stated that the Strategy was the initial step for future reform. Today, we are happy to have fulfilled this responsibility and take great pleasure in presenting the Action Plan to our nation."
Erdoğan also voiced his gratitude to all the institutions and parties who have contributed to the preparation of the Action Plan by presenting their views and criticism.
However, before the meeting, some of the leading rights organizations of the country, including the Human Rights Association (İHD) or the Human Rights Foundation of Turkey (TİHV – HRFT), said they were not included in the study.
Erdoğan's broad plan did not include any pledges to abide by Turkey's international liabilities, such as the European Court of Human Rights rulings and the Istanbul Convention that triggered a hot gender equality debate in Turkey.
Below are the nine objectives set by the government plan, with rights groups awaiting major and concrete improvement in key issues:
1- A stronger human rights protection system,
2- Strengthening the independence of the judiciary and the right to a fair trial
3- Judicial predictability and transparency.
4- Protection and development of freedom of expression, organization and religion,
5- Strengthening individual freedom and security,
6- Ensuring the physical and spiritual integrity of the individual and private life,
7- More effective protection of property rights,
8- Protecting fragile groups and strengthening social welfare,
9- A high level administrative and social awareness on human rights.