Former Soviet countries' dialogue in NATO-member neighbour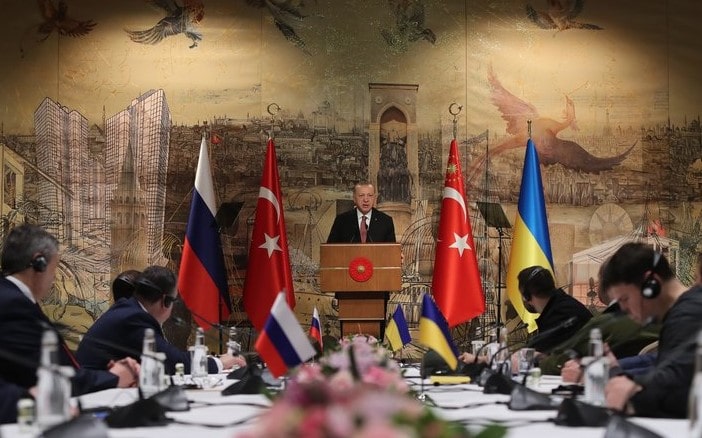 The second high-level political meeting between Russia and Ukraine was held today, March 29, in Istanbul. The first meeting after Russia's offensive on Ukraine started on February 23 was held in Turkey's Antalya between Russian and Ukrainian Foreign Ministers Sergey Lavrov and Dimitro Kuleba on March 10. President Tayyip Erdoğan and Minister of Foreign Affairs Mevlüt Çavuşoğlu have adopted a different understanding and effort than before so that the war will end and that it will not spread and engulf Turkey. A neighbouring country that became a NATO member 70 years ago against the Soviet threat puts an effort to end the war between the two largest republics of the Soviet Union, which collapsed thirty years ago.
History plays unexpected tricks on countries and people.
Let's put it another way: Will the two largest republics of the Soviet Union, the Russian Federation and Ukraine, make peace with the intervention of their NATO-member neighbour Turkey?
The Ukraine Crisis has brought Turkey to the fore in the diplomatic scene, but there is also a geostrategic dimension: Turkey's weight will be heavier in the post-crisis political equations.
Erdoğan walks without stepping on Putin's feet
Erdoğan launched the Russia-Ukraine meetings held at the Presidential office in İstanbul's Dolmabahçe Palace before taking off for the Uzbekistan visit. "The world is waiting for good news from you," he told the negotiating parties, emphasizing the word "facilitator" in his speech to describe Turkey's role, not "mediation".
He knows that the word "mediation" offends Russian President Vladimir Putin. Many leaders aspire to this role, from French President Emmanuel Macron to Israeli Prime Minister Naftali Bennett. This time, Erdoğan also praised the efforts of Turkish Foreign Minister Çavuşoğlu, as well as the Minister of National Defense Hulusi Akar and his Chief (and I think the only real one) Chief Advisor, İbrahim Kalın. But it is clear that his very special relations with Putin made this complex diplomacy possible.
During the July 15, 2016 coup attempt, Putin offered Erdoğan the solidarity he expected from the United States and Western Europe. Now he is trying to provide Putin with a political exit from the war without disturbing the Russian leader and breaking Ukraine's trust. Ukraine's willingness to see Turkey among the guarantors of the agreement in case of peace shows this.
Is a federative Ukraine a possible outcome?
Çavuşoğlu said that "progress has been made". His words were not in rhetoric. Russia has already said that it will cease fire on the cities of Kyiv and Chernihiv unless it comes from the opposite side to "facilitate dialogue". Ukrainian President Volodimir Zelensky said he believed there wera some positive signd though they cannot silence the sirens yet. US President Joe Biden said he has no trust in Russia but they were closely watching the talks in Turkey.
If the talks continue at this pace, it is possible to move on to a comprehensive ceasefire and peace talks.
According to the information published in the international media, Ukraine will guarantee not to have nuclear weapons and that it will not be a member of NATO; even though it will not be a member of the European Union, it will be able to establish special relations. Zelensky has already said that they can accept these conditions.
It seems not likely for Russia to give away Crimea, which it annexed in 2014, and the Luhansk and Donetsk regions, as Putin recognized their independence as republics. However, according to the information we obtained from the sources close to the matter, some formulas are on the table both for the continuation of Russian influence in this region and for the nominal protection of Ukraine's territorial integrity. These include Ukraine's transition from a unitary structure to a federation structure and, perhaps, granting autonomy to Luhansk and Donetsk, if not Crimea.
Let's hope Turkey's efforts will bring results; the fire of war can be extinguished before it spreads and grows.