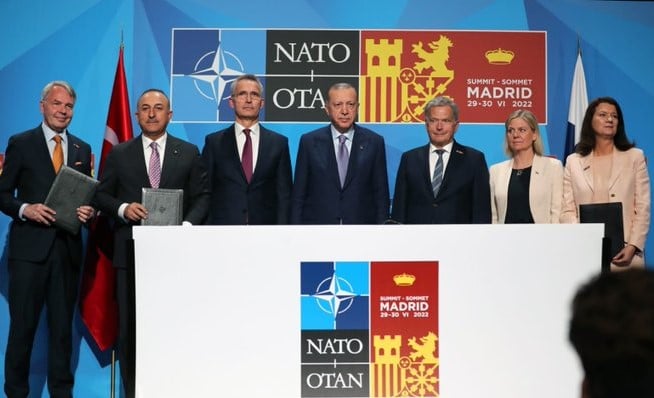 The barrier that Türkiye placed on the NATO membership of Sweden and Finland was lifted with a four-way meeting held in Madrid on 28 June. After a two-hour meeting facilitated by NATO Secretary-General Jens Stoltenberg, it was announced that President Tayyip Erdoğan, signalled that Ankara's veto would continue "unless concrete steps were taken" before leaving for the meeting, conveyed his approval to Finnish President Sauli Niinistö and Swedish Prime Minister Magdalena Andersson.
The leader of Türkiye's opposition İYİ Party, Meral Akşener, was the first to react to the decision. She said, "It is a concession that is incompatible with Türkiye's interests."
It is not possible to say that Türkiye got everything it wanted with the "Triple Memorandum" approved by Erdogan. The document, which is a memorandum, that is a reminder text of those legal bindings is questionable, listed Sweden and Finland's intentions to take steps, but did not include concrete steps to be taken. The concrete steps include the decision to establish a cooperation mechanism between security forces; also the removal of the arms embargoes that the two countries placed due to Türkiye's Syria operation in 2019. The fact that the outlawed Fethullah Gülen organization is classified as a terrorist organization included in the document as "identified as FETO in Türkiye" can also be considered an ideological/political gain of the government.
As a result, the NATO Summit started without any obstacle from Türkiye.
So what is behind Erdogan's sharp manoeuvre?
Was Biden call sufficient for Erdoğan's lifting veto?
It can be said that a turning point was when US President Joe Biden telephoned President Erdoğan and made an appointment for a meeting in Madrid. The day before, on June 27, upon the question if there could be a possibility for a bilateral discussion with Erdoğan, Biden's National Security Advisor Jake Sullivan said "nothing is scheduled at the moment, but they may very well have the opportunity to see one another at the NATO Summit. Let's see how the next 24 hours unfold". Meanwhile, Erdoğan sent his spokesman and foreign and security policy adviser İbrahim Kalın and Deputy Foreign Minister Sedat Önal to Brussels for talks. They would meet with officials from both NATO and Sweden and Finland. Another development in that 24 hours was the announcement that Turkish defence firm Baykar donated 3 Bayraktar TB2 UCAVs to Ukraine. Türkiye was showing the importance it attaches to NATO solidarity, even though it knew it would anger Russia.
It was also announced at the same time that Biden had telephoned Erdogan; "I expect to see you in Madrid," the US President said. Erdoğan also said, "if he wanted to meet, let's talk then" with a tone that did not attach much importance to this, and said that the main topic in the meeting would be the F-16s.
Was Biden's phone enough for Erdoğan to approve Sweden and Finland's NATO membership?
Will the F16 bid come to an end?
The statement made by the White House after Biden and Erdoğan's meeting emphasized that "the leaders will discuss the consequences of Russia's invasion of Ukraine" at the NATO summit. It implied that Türkiye could be held responsible for the consequences if she opposes the Finnish and Swedish enlargement at a time when Russia would now be officially declared a NATO target.
This opens the door to the sale of F-16s with an emphasis on Türkiye's NATO defence. The US State Department had previously requested support from the Congress for the sale of F-16s to Türkiye for NATO Defense. However, it was rumoured that this approval would not be passed by the US Congress, which later applauded Greek Prime Minister Kyriakos Mitsotakis. Is the F-16 issue behind Erdoğan's approval of the enlargement with the "Triple Memorandum" despite him saying that "it is not possible without concrete steps,", especially before the 2023 elections in Türkiye? Will Biden, who seems to have a weakened position in the Congress in the November elections, weigh-in and approve this sale?
Learning lessons
The NATO bid of Sweden and Finland reminded Erdoğan of the promises made but not kept by the USA after the September 12, 1980 coup. He said "a Muslim never be bitten from a place that it had been bitten before" meaning that a lesson is learned by a bitter experience. At that time US European Commander of Forces Bernard Rogers promised General Kenan Evren that if Türkiye approves the return of Greece to the military wing of NATO -which was then called the European Economic Community- Türkiye will be accepted along with Greece. Among the names who put pressure on Ankara before September 12 1980 was the young senator of the time, Joe Biden. Erdogan reminds people of this. 
Let's see if Türkiye will win this time.