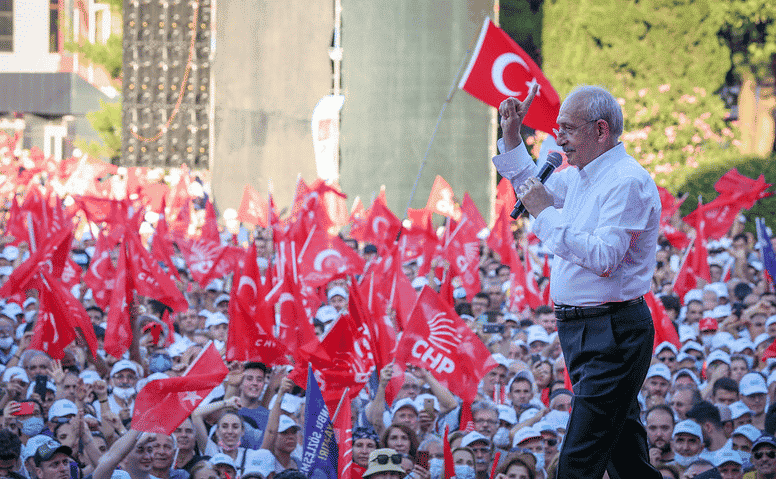 Two noticeable events took place over the weekend in Türkiye, President Tayyip Erdoğan held an "opening ceremony" slash "rally" in ruling AKP's stronghold city Kayseri and main opposition CHP leader Kemal Kılıçdaroğlu held public meetings in AKP's another stronghold city Balıkesir. What was noteworthy was not the events, but the to crowd they spoke to intriguing political analysts to discuss "what is going on?"
Even over-conservative right-wing AKP supporter columnist Abdullah Dillipak asked "What is happening to AKP?" answering his own question: "It is about to go". On the other hand, some of the AKP supporters are pointing out Erdoğan's diplomatic efforts in Russia-Ukraine war, arguing that Türkiye's international recognition, for example, in the solution to the grain crisis will be noticed by the voters and economic problems that people are experiencing will not be effective in election results.
"Economic crisis is a result of foreign attack"
Erdoğan in his Kayseri rally gave two messages to the people: one was that the economic crisis that Türkiye has been going through is stemming from the global crisis and foreign interventions rather than the AKP's wrong policies. He suggested that the public should vote for him to "challenge the foreign powers" just like he wanted votes in 2018 saying that "if you vote for me inflation will go down, interest rates will go down so will the high cost of living."
His second message was to CHP leader Kılıçdaroğlu whom he calls "Mr Kemal " in an effort to undermine his position in conservative voters' eyes. He challenged him to "face him" in the election as the opposition's presidential candidate.
Kılıçdaroğlu's biggest surprise in his rally on July 24 was an additional single line on his Twitter bio. CHP leader included "Mr Kemal (Bay Kemal)" in his Twitter biography, embracing the nickname that the president has been using to villainize him. It reminded Türkiye's former Prime Minister Bülent Ecevit's 70's campaign where he embraced an old woman calling him "Karaoğlan / Dark Boy" in a rally in a small city. He is still known as Karaoğlan, a name that gave him nationwide sympathy and landslide victory in the election. For the younger generation, maybe everyone recalls climate activist Greta Thunberg's Twitter bio change to "bunny hugger" embracing the term to mock former US leader Donald Trump who called her the exact same thing to belittle her.
Anyways, the real surprise was about the messages on the Lausanne Treaty.
Balkan migrants and ground swell of support
In his speech on the day which marks the 99th anniversary of the Republic of Türkiye's founding certificate, Lausanne Treaty, the opposition leader promised to announce the day July 24 as the national holiday to mark the importance of the day. Domestic political debate on Lausanne is a subject of another article, however Kılıçdaroğlu's move to participate in a meeting with Balkan Migrants and Balkanian Turks titled "Population Exchange".
Both Balıkesir and Bursa host a high Rumelian Turkish population. Only in Bursa, there are around ninety migrant and population exchange associations. Actually, Kılıçdaroğlu's promise of a national holiday came after The Foundation of Lausanne Treaty Emigrants Chair Arif Ümit İşler's request in the meeting. The keynote speaker was Prof. Dr İlber Ortaylı who is himself of Crimean emigrant family origin.
Bursa's emigrant community is known for its nationalist-conservative predominance and inviting Kılıçdaroğlu to this meeting despite the MHP-supported AKP rule, should be considered a sign of change.
Part of my family is also from the Balkan Turks. I spoke with my sources from the Rumelian community yesterday. "This is a ground swelling," he said, who did not give his name because he is a public employee; "The ground swell is changing direction".
Embracing Mr Kemal
First of all, it was a brilliant public relations idea for Kılıçdaroğlu to adopt the nickname "Mr Kemal" that Erdoğan gave him.
Why did Erdogan use Mr Kemal to refer to Kılıçaroğlu in the first place? Because, according to the political Islamist understanding, the word "Mr" was a veiled reference to the values ​​of the Republic, secularism and Atatürk. It was a symbolic naming implying that Kılıçdaroğlu "is not one of us".
Kılıçdaroğlu was embracing the term in his Twitter bio with a counterattack. "It is not easy to be Mr Kemal," he said, listing justice and anti-corruption as his values. Claiming the nickname Mr Kemal, personalizing or embodying the opposition may be instrumental for him.
According to CHP sources, Kılıçdaroğlu took another step toward announcing his candidacy against Erdoğan. However, he seems determined not to bring this issue before the last meeting of the coalition of six opposition parties, namely the table of six, to be hosted by Temel Karamollaoğlu, the Saadet Party (Felicity Party) in the first week of August.
I still believe that Kılıçdaroğlu will not announce any name or himself as the candidate without an agreement with his partners on the table of six. However, as long as the economic crisis continues, the number of people who vote for the opposition against Erdoğan will increase.
CHP's immigration policy needs fine-tuning
Finally, it is clear that the CHP's immigration policy, which focuses on Syrian refugees, needs fine-tuning.
Neither Mr Kemal nor İYİ Party leader Meral Akşener, for example, can compete with the leader of the Victory Party, Ümit Özdağ, in the rhetoric "We will send the Syrians back immediately". There is no point in doing that anyway. Bosnian, Macedonian, Pomak and Albanian are referred to as Turks in all the Balkans. They are members of the Muslim community regardless of their ethnic origin. The same is valid for Caucasian Muslims.
It would be beneficial for both the CHP and the IYI Party to fine-tune their policy on Syrian immigrants. I am not talking about criticisms of AKP policies such as destabilizing Syria and trying to change the population structure in Turkey. But unfortunately, as İlber Ortaylı said at the meeting, like every country, Turkey has a certain need for immigrants. The important thing is to be able to do this by finding the balance in a rational and embracing way, not with the current policy of either open door or total exclusion.