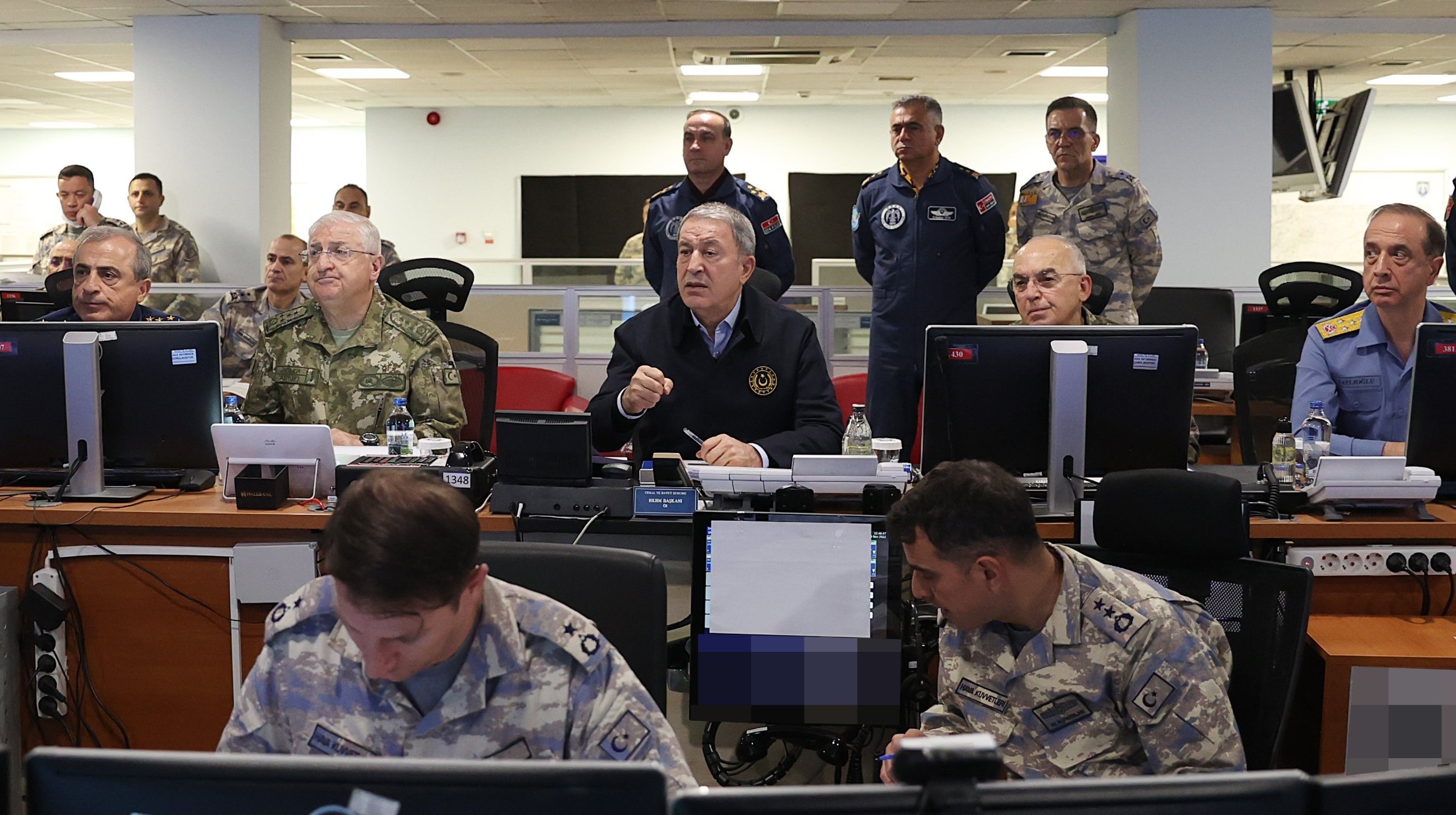 Turkish Ministry of National Defense announced that Turkish Air Force jets carried out a comprehensive operation against the outlawed Kurdistan Workers' Party (PKK) targets in Syria and Iraq in the early hours of November 20. National Defense Minister Hulusi Akar said that the "Air Operation Claw-Sword" was carried out within the framework of "legitimate defense" according to the 51st article of the UN Charter in the face of cross-border threats and that "only shelters, bunkers, caves, warehouses, and headquarters belonging to terrorists were destroyed". Akar also said that "any kind of treacherous attack will be repaid" against Türkiye.
The Claw-Sword Air Operation was carried out a week after the terrorist bombing that killed 6 people and injured 81 people on the popular İstiklal Street in Taksim, Istanbul on 13 November. The launch of the operation led by Akar, together with the Chief of General Staff Yaşar Güler and the top brass was announced via the Twitter account of the Ministry at 01:12 with the title "Payoff time".  According to military sources, Turkish F-16 jets took off from the 8th Main Jet Base Command in Diyarbakır, Southeast Türkiye. Ministry also said that a total of 89 targets hit were  in the operation areas of Kobane (Ayn al-Arab), which is under the control of the PKK's Syrian branch PYD/YPG, as well as Tel Rifat, Cizire and Derik in Syria and Kandil, Asos, and Hakurk in northern Iraq. (*)
US warning before Turkish jets
Turkish Interior Minister Süleyman Soylu said that the perpetrator of the İstiklal terror attack, Syrian citizen Ahlam Albashr had been ordered PKK/YPG base in Kobani.  Kobane is under the control of the Syrian Democratic Forces (SDF) which was established upon the request of the US Special Forces in order not to be seen as collaborating with the Syria branch of the PKK which considered as a terrorist organization by the US Government; it is in the US-protected "safe zone" along the Turkish border in Syria. According to military sources, weapons depots in Kobane and other regions are among the targets hit by Turkish jets.
Turkish President Recep Tayyip Erdoğan has repeatedly condemned the US's aid to the PYD/YPG with weapons and said that the weapons given to fight against ISIS are also used in terrorist attacks against Türkiye. The U.S. Consulate General in Erbil issued a security warning on November 18, asking its citizens to stay away from the region against "reports of potential Turkish military action in northern Syria and northern Iraq in the coming days".  It shows that the US did not stop the Turkish operation against the PKK/YPG it cooperates, but warned everyone in the region together with the American citizens to take precautions to avoid it.
Akar announced the completion of the operation in the morning hours with a congratulating radio message he sent to the pilots who took place in the operation.
(*) Updated on 20 Nov 2022 at 15.40.