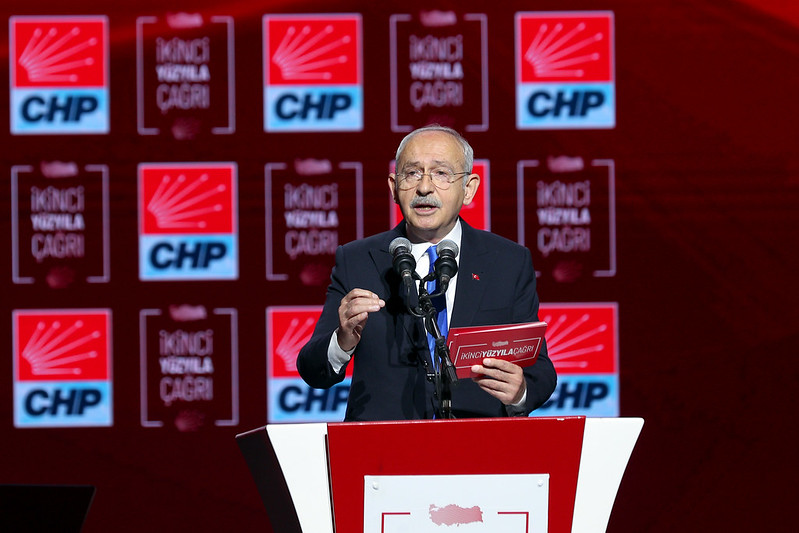 Türkiye's main opposition Republican People's Party (CHP) leader Kemal Kılıçdaroğlu promised to bring a technocratic supra-political committee to advise the country's policy-making efforts, as the party introduced its economy programme in a grand event dubbed "the call for the second century."
"Türkiye needs a radical change. It needs a system that works for everyone. Such a country is possible, and we are sure that we will grant it when we come to power. Türkiye will not be governed by a single person but by a merit-based system," Kılıçdaroğlu said on December 3 at the event where his party's administrative strategy if they came to power was announced.
In the event where renowned economists and CHP's economic cadres made speeches outlining the party's economic vision, Kılıçdaroğlu announced that the main opposition had established a technocratic committee comprised of 70 advisors who were "experts in their field" and "wanted to serve their country."
Supra-political committee
"This is a supra-political union," he said. "They will not work for a person, political party, or political power. They will work for their country," he added.
He stated that the main opposition proposes to bring about "structural change" that will ensure the members of the technocratic committee keep their advisory work "even after the governments change."
"Politicians and supra-political meritorious staff will work together," he said.
"Working principles will never be sacrificed to the agenda of reel politics. Incoming governments will not be able to manipulate the economy and industry according to their own political agenda. Institutions that should remain independent will remain independent because the system will become permanent. And the system we will establish will protect the lifeblood of the state, which needs to be managed rationally. Once the system gets stronger, the country will no longer be faced with constant structural crises," he said.
American advisor Rifkin in the committee
Globally renowned economists Prof. Dr. Daron Acemoğlu, Prof. Dr. Refet Gürkaynak, Ufuk Akçiğit, Hakan Kara, CHP's Hacer Foggo, Faik Öztrak and Selin Sayek Böke were among the speakers in the event where the general framework of the party's economic vision was drawn out as "industrial transformation."
American theorist and political advisor Jeremy Rifkin was announced as the CHP Leader's "main advisor for industrial transformation," as he was the keynote speaker at the event.
A Bloomberg article described him as "for almost two decades, U.S. author and climate activist Jeremy Rifkin has advised governments in Europe and China on how to retool their economies for what he calls a third industrial revolution."
Kılıçdaroğlu referred to Rifkin as his advisor, adding, "We will carry out the ground-breaking industrial transformation that Mr. Rifkin made possible in Germany and China in Türkiye as well."
A promise of $100 billion in direct investment
The main topics that the speakers at the event dwelled upon were primarily the current economic turmoil in the country. The ruling Justice and Development Party's monetary policy, development strategies, employment and labour policies, taxing system, and education were among the prominent subjects that the economists and party officials proposed solutions to.
Summarizing the main opposition's economic policy after the speeches, Kılıçdaroğlu said the CHP will provide "technological transformation and green production." He stressed that the party would focus on ensuring a "democratic environment and rule-based economy."
He said that the party will "change the monetary policy," which will lead to more jobs and industrial growth.
"Getting out of the crisis is easy; we will change the system," he said, adding that "they have the means and finance for that."
"In the first three years of our power, there will be at least 100 billion dollars of direct investment in the country," he said, "Apart from that, we will bring 75 billion dollars of investment from independent wealth funds from all around the world. We will ensure clean and sustainable funds to invest 15 billion dollars in Türkiye," he added.
Emphasis on fair distribution of wealth
Criticizing the current economic policies as "inflationist, based on a devalued Turkish Lira and cheap labor," Kılıçdaroğlu said, "we will dump these policies. And the way to that is to ensure industrial transformation."
"I found the funds, we designed the infrastructure, our plan, projects, and human resources are all in place. First, we will bring tech investment to Türkiye. We will transform industrial infrastructure," he said.
"The riches will come from that and will be dispersed to the base. The people will get richer. Prosperity will be distributed fairly. With a strong welfare state, we will bring people prosperity," he added.
Kılıçdaroğlu said that the CHP will "ensure an environment of trust" for "rational economy management," underlying the welfare emphasis: "We will give what was stolen from people back to people."
Opposition alliance will continue to work
The CHP is a leading party of a six-party opposition alliance that calls itself "The Table of the Six."
The alliance has been under scrutiny from critics who argue that the table has not brought tangible election policy in front of people as the critical 2023 elections near.
Six party leaders have announced their will to bring a "strengthened parliamentary system" as opposed to the current presidential governmental system that they criticise as a de facto "one-man regime."
The alliance has prioritised a constitutional draught and "transitional agreement memorandum," for the "parliamentary system," before nominating a candidate to race against Recep Tayyip Erdoğan in upcoming elections.
The nomination of a candidate has become the subject of public debate among alliance members, causing rumours that the table has been shaken.
Kılıçdaroğlu aimed to end the rumor, stating that "the table of the six will continue their work, regardless of black propaganda."