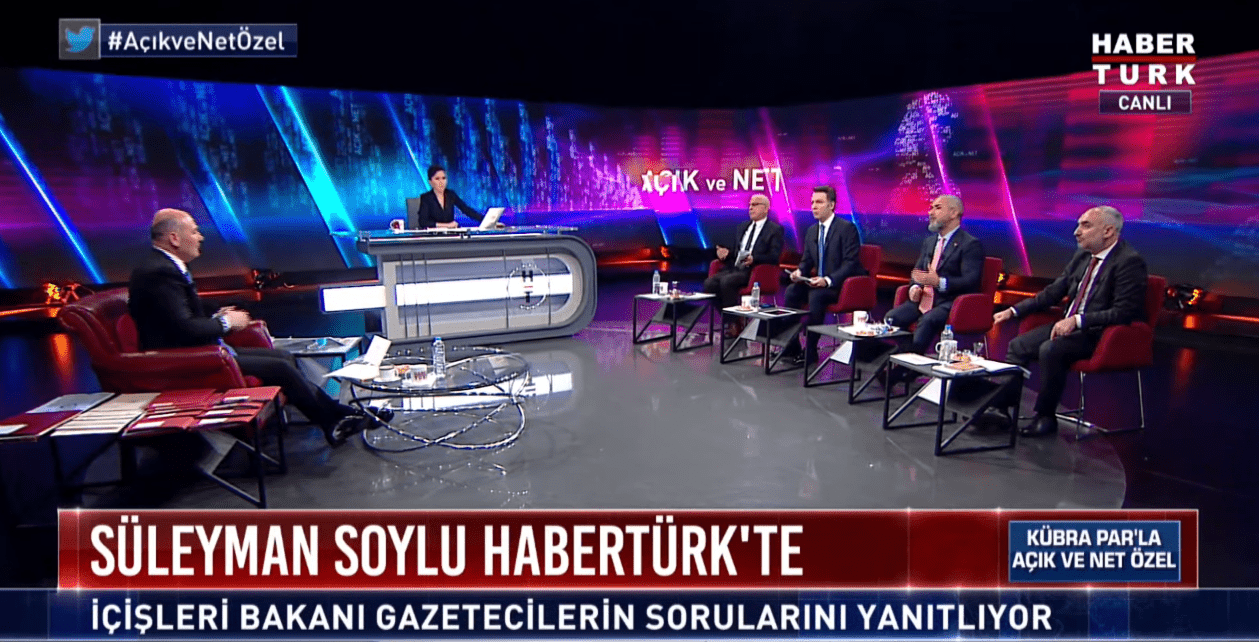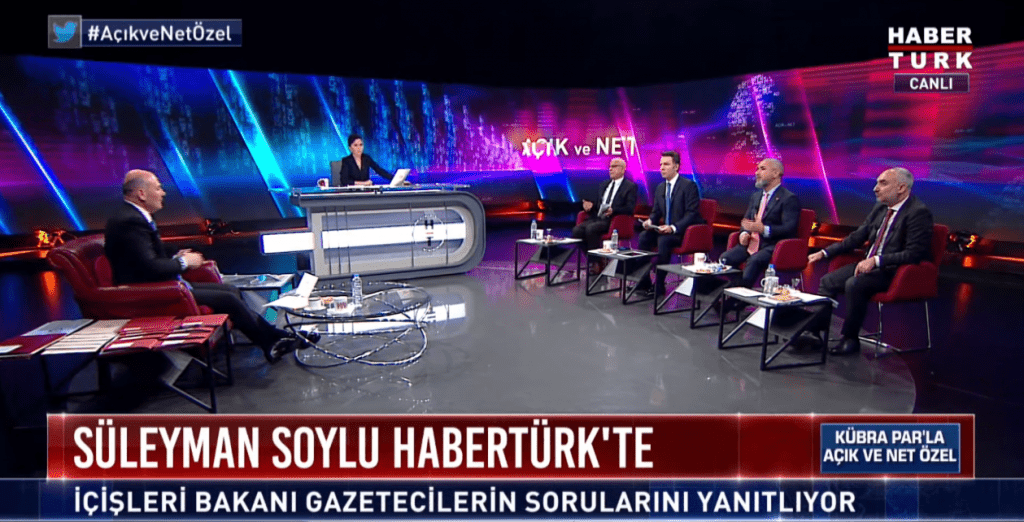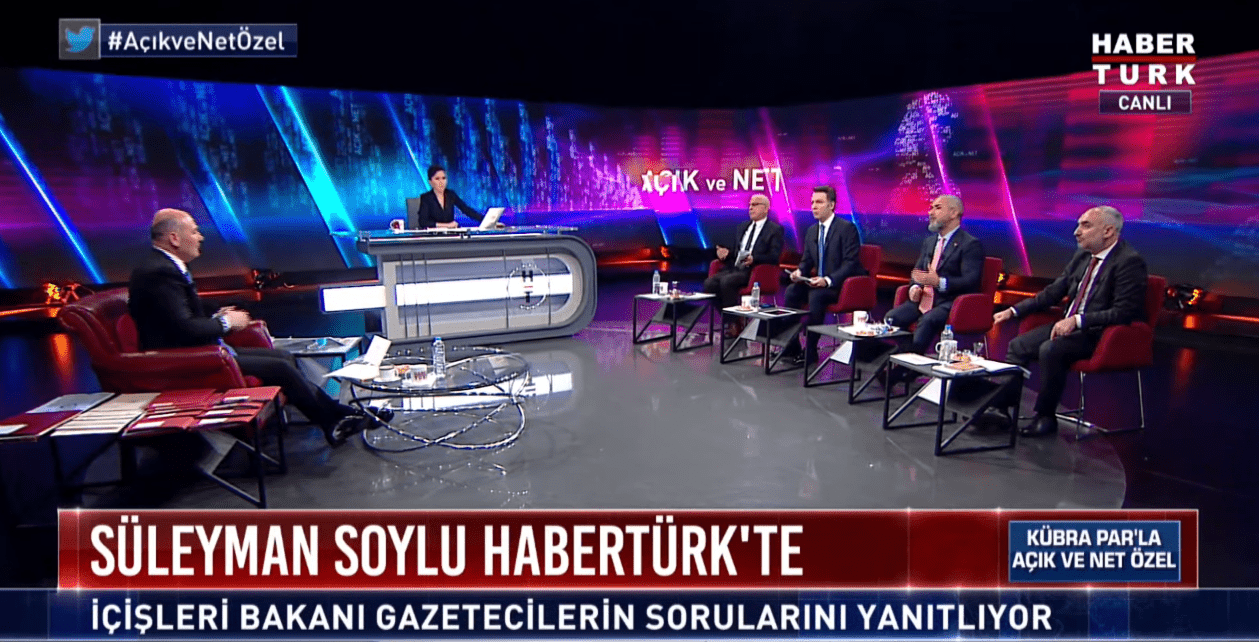 Turkish Interior Minister Süleyman Soylu attended a live debate on private broadcaster Habertürk late on May 25, responding to questions by journalists on the recent allegations about him by Sedat Peker, the fugitive mob leader.
He skilfully avoided core questions thanks to his abilities as a politician trained from the cradle, putting forward the "imperialist plots against Turkey" or "the dirty cops of 1990s" instead of giving concrete answers.
Still, there is a lot to read between the lines in the three-hour program but one blunt answer to an open question remains.
But, answering a repeated question on whether he would resign or not, "I have never thought of it," the minister said.
This statement briefs the minister's overall response to the allegations. He makes an implicit call to President Tayyip Erdoğan that "I won't leave the seat, you can dismiss me if you want to." This also means that "If you won't dismiss me, then you should support me properly."
For those who liken Peker videos, full of accusations of murder, drug trafficking, favoritism and other illegal businesses, to mafia TV shows, the second episode is yet to start after the live broadcast, and the plot is built on the balances inside the ruling Justice and Development Party (AKP). Soylu says he does not feel alone but the old days of embrace both by the AKP and its election partner, the Nationalist Movement Party (MHP), are long gone. Actually, he admitted it when he said with a complaining voice at the start of the program that "Silence prevails."
Perception: Mafia chief is shaking the gov't
As millions of people were curious about what Soylu had to say, many shared Twitter postings by Peker, who immediately responded to Soylu, continuing his insults.
When the foreign press writes that "A mafia chief is shaking the Erdoğan government in Turkey", Ankara hits back, saying that this is an "operation of perception management". Is this a showdown? No, this is an attempt to drown the demand for a showdown into silence.
And one of the reasons for the current situation is that prosecutors have not launched a probe despite Interior Minister Soylu personally placed a legal complaint about the heavy allegations against the government that spread from turning a blind eye to murder to drug trafficking.
Journalists asked which politician was on the payroll of Peker, getting $10,000 a month, they even questioned whether it was Erdoğan's countryman, AKP lawmaker Metin Külünk. Soylu said he would tell it to the prosecutor. But which prosecutor? There is no ongoing probe or a prosecutor in charge.
Soylu complains about the judiciary, saying that "We catch [the criminals], courts release them." The addressee is Justice Minister Abdulhamit Gül. Soylu talks about Peker's two "men" inside the police, (who were suspended recently), and his addressee is Efkan Âlâ, the former interior minister who is today the head of the foreign affairs office of the AKP. He was asked about Colombia and Venezuela drug trafficking connection allegations, the addressee is the Binali Yıldırım, the last prime minister of Turkey before the shift to the presidential system and the current AKP deputy chair. This is the smoke billowing the AKP burning inside.
This is the framework of the current situation that Soylu tells Erdoğan: "Either send me or fully embrace me."
Why did Peker target Soylu?
Soylu spoke about his hostilities with Mehmet Ağarseveral times and called on the former interior minister to resign from the management of the Yalıkavak Marina in the Aegean resort town of Bodrum "n 48 hours." Why 48 hours. Isn't that 48 hours more than enough to destroy evidence of crime if there is any? If there is criminal intelligence, is it not necessary to act as soon as possible and without announcing it? Soylu said Peker's wife Özge Peker, a lawyer, manages the financial structure of the criminal organization. Is there an investigation or a lawsuit on this subject? If not, and if the interior minister has intelligence in this regard, why do not they take action?
When asked why Peker targeted him, along with Ağar, Soylu said that the real target was not himself but Erdoğan and Turkey. However, when the question was repeated, he said that he was targeted, because of his unprecedented fight against terrorism and drugs. And the reason was not limited to that, he said. For example, he said he stood against then-PM and AKP chair Ahmet Davutoğlu's plans to "lock Erdoğan to the presidential palace " and "to prepare an autonomy constitution with the HDP", implying a "Kurdish autonomy, in 2014. He also said that in 2016, he pioneered a move Davutoğlu, now the leader of the opposition Future Party, with an intra-AKP coup to replace him with Binali Yıldırım. All these made him a target of powers that did not want Turkey to develop, Soylu said.
Pollution of the media
We are in such an absurd and miserable situation that unfortunately millions of people have set their eyes on not the parliament that could move on to reveal the truth, but what Peker will have to say in his new video due May 30.
This is not only because the judiciary is open to political interventions, and the judiciary has regressed and illegality improved Erdoğan and his AKP wanted to play with the media as a toy belonging to themselves only, and broke it, contributing to the current situation.
The statement that a free press is a must for a healthy functioning democratic constitutional state is not just words. This pollution is accumulating partly because the scattered press cannot fulfill its duty.
Yesterday's program was the first example of a government official appearing before journalists from different opinions for a long time. Soylu should be seen as an example in this respect. He also broke Erdoğan's years-long unspoken ban on not appearing on programs with critical journalists. But as a core politician with a rhetoric capability, he started to ask questions to those journalists. Except for a few points, he held the grip of the program flow.
Neither the director of the program, Kübra Par, nor the journalists Merdan Yanardağ, Mehmet Akif Ersoy, Veyis Ateş and İsmail Saymaz who asked questions should be accused of not getting the expected answers. They asked most of the key questions. But Soylu is a street politician from the school of late president and prime minister Süleyman Demirel.
With Soylu sending a message to Erdoğan about either standing by him or dismissing him late on May 24, the second act has started.