CHP's momentum with Kurdish voters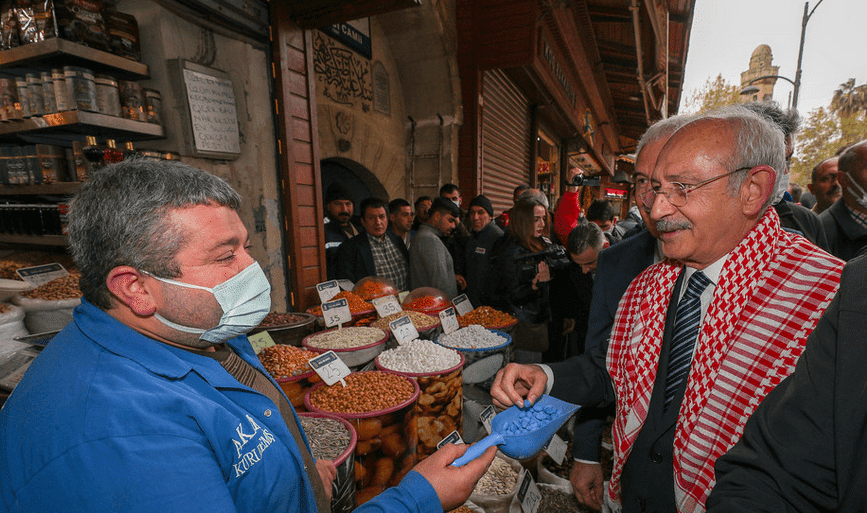 Of course, not all Kurdish voters are living in East and South-East Turkey. That is a well-known fact that Istanbul hosts the densest Kurdish population globally. It was the Kurdish voters that determined June 23 2019, local elections where Republican People's Party (CHP) candidate Ekrem İmamoğlu has taken the Istanbul Metropolitan Mayor seat after 25 years.
June 23 was the second round of the 2019 local elections, held twice due to the ruling Justice and Development Party (AKP) and Nationalist Movement Party's (MHP) objection to the previous votes where İmamoğlu again was the winner. And in this second run, it is difficult to say that all votes for İmamoğlu were from CHP supporters. It was a reaction to President Recep Tayyip Erdoğan and his partner MHP leader Devlet Bahçeli for not accepting the initial results where they were defeated with small difference.
In the last two years, Turkey's changing political arena has affected the voters' choices in East and South-East Turkey. A most important change is that the establishment of the DEVA Party and Future Party (Gelecek Partisi) seem to divert AKP votes to these parties.
These trends can be seen in the latest researches of Rawest, which was established in Diyarbakır in 2018 and shares the political and social trends in the region.
Changing voter profile in the East and Southeast
A noteworthy feature of Rawest is that they carry out their field research and interviews in the East and Southeast region in people's mother tongue. For example, in their "Political Trends" research, published in January 2021, they conducted face-to-face interviews with 1497 people in 20 districts and 100 neighbourhoods in Diyarbakır, Van, Şanlıurfa and Mardin. They stated that 85 percent of these interviews were in Kurdish and Zazaki and 15 percent in Turkish and Arabic.
The results of the Political Trends survey are interesting. 61 percent of the respondents said they would never vote for Erdogan, and 30 percent said they would, but 55 percent believe that Erdogan will be elected. So the contradictory situation in Turkey in general is also valid in the East and Southeast.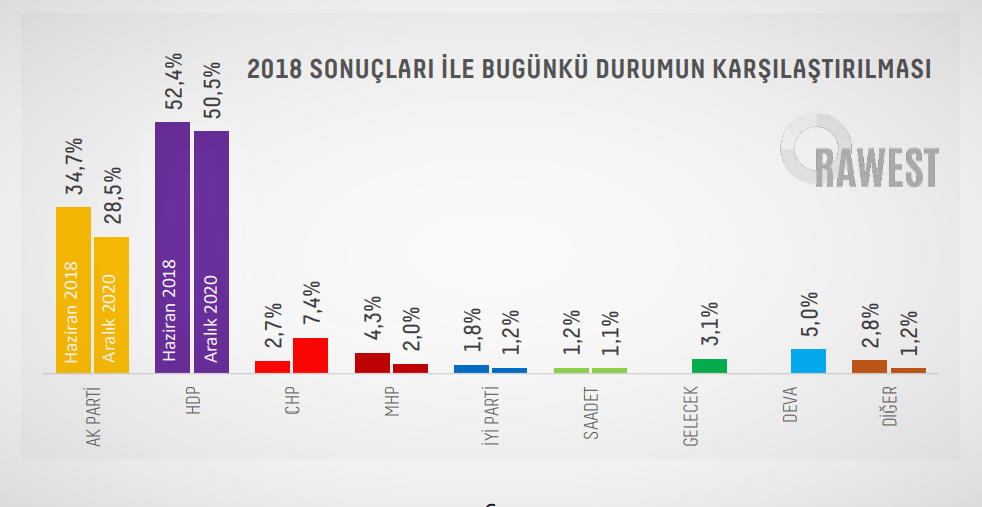 The research indicates that CHP gains votes in the four metropolitan cities that usually reflects the overall situation of the AKP in the region. However, even though CHP has tripled its vote and is the third party in the region, it still seems to have only 7.4 percent support. Despite the slight loss in its votes, on the other hand, the People's Democracy Party (HDP) seem to maintain its strength.
Are this trend and CHP's gain permanent?
I spoke with Rawest General Manager Roj Girasun to see if their results in January 2021 have changed throughout the year and if they appear permanent. Girasun said that they are conducting another study, which will be announced soon. Here's what he said beforehand:
"As of July, the CHP seems to have quadrupled its vote in the region (the average of these four cities) compared to 2018. (This means that its vote reached up to 10 percent). The CHP, which had been regarded as "a signboard party" until recently with symbolic provincial branches in the region, has become more active in the region where people prefer to participate."
"We can say that the CHP has started to become the new address of the rooted centre-right votes in the region attracted by AKP before. One reason for this is the changing political climate throughout Turkey. The other reason is that DEVA, which had attracted considerable attention when it was first founded, could not make the expected debut in Turkey."
Whether the CHP's position in the east and southeast is permanent or not is vital for Turkey's general political outlook.
"Radicalization" in young people is decreasing
Two months ago, Imamoglu was greeted with cheers like a political pop-star in Diyarbakir, where he went for an non-political program. CHP leader Kemal Kılıçdaroğlu, on the other hand, left Diyarbakir, which he stopped by on his return from Şanlıurfa program last week, without attending any program. Moreover, last-minute internal-party warnings and evaluations indicated that some meetings were unprepared and would not benefit the CHP but harm it. This development shows that the CHP needs to proceed very carefully to maintain its current position.
Rawest research and Girasun's comments to YetkinReport show that "reducing radicalization" among young voters is also important. Their study published in December 2020 shows that the two biggest concerns of young people are "unemployment" with 39.8 percent and "livelihood/economy" with 22.9 percent. "Political" concerns are in third place with 8.5 percent. In total, 70 percent of the answers are economic and class-related, and 18 percent are political and ideological.
Girasun says that the tendency of radicalization among young people has decreased not only in ethnic terms but also in religious terms. The translation of this is a decrease in the tendency of young people to sympathize not only with the outlawed Kurdish Labor Party, PKK, but also with Islamic political groups such as Turkey's Hezbollah, Al-Qaeda or ISIS.
Young voters compare Demirtaş and İmamoğlu
CHP Deputy Sezgin Tanrıkulu made a similar observation a while ago at a video conference organized by Diyarbakır-based Dicle Social Research Center (DİTAM). According to Tanrıkulu, Kurdish politicians and Kurdish voters were frustrated and tired of the current line of struggle, which constantly encircled them with oppression, imprisonment and defeat. So instead of pursuing separatist politics, they wanted to have a share in the administration of Turkey.
Bekir Ağırdır, General Manager of KONDA, says Girasun's picture largely coincides with their findings across Turkey. The Covid-19 epidemic and economic problems made issues in the region class-related rather than in ideological. Ağrıdır thinks that the AKP has dissolved in the region, but he added that it cannot be said that the CHP's trend is permanent yet.
In this context, Imamoglu's effect should also be mentioned. According to Girasun, the young voter in the East and Southeast somehow compares Istanbul mayor İmamoğlu with HDP's former co-chairman, Selahattin Demirtaş, who has been imprisoned for five years. This is not just because Demirtaş and İmamoğlu represent the younger generation of politicians. They also sympathize with İmamoğlu for the fact that his mayoralty was taken away from him in the first round of elections as the it was renewed.