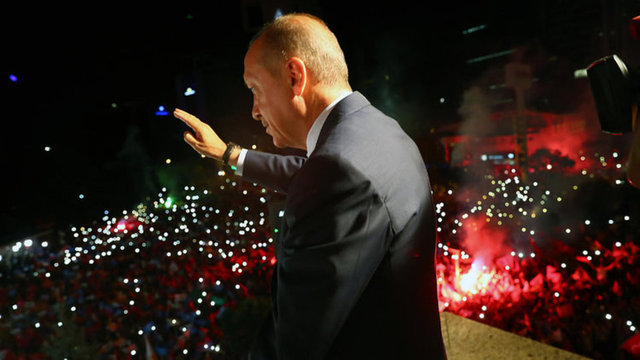 Turkish President Recep Tayyip Erdoğan was re-elected for his third term at the seat after the run-off elections on May 28.
The ruling Justice and Development Party (AKP) leader Erdoğan received 52.14 percent of the votes, while his opponent and opposition's candidate Republican People's Party (CHP) leader Kemal Kılıçdaroğlu received 47.84 percent. The margin will change as the results are officially announced, but Erdoğan won.
Erdoğan was not supposed to run for a third term as the new constitution restricts any president to run more than two terms; he did. He was not supposed to use state resources for the AKP's and his election campaign; he used them to the fullest. He was not supposed to obstruct his opponent's propaganda campaign; he did. The election supposed to be free and it had to be held under fair conditions; it was not. But despite these conditions, his opponents entered the election with the belief that they could defeat Erdoğan. Erdoğan used all the advantages of being in power without hesitating to violate democratic, constitutional and legal limits and won.
The ruler did not change. But as Erdoğan's strategic partner, Nationalist Movement Party (MHP) leader Devlet Bahçeli said in his victory speech: "In the coming days, many things will change, everything will change".
Erdoğan won, but it will be harder to govern
Erdoğan won, but his partner declared that nothing would be the same from now on even before he delivered his toughest-ever "balcony speech".
Had he not been a ruling partner, perhaps he would have said, as he did on the night of the June 7, 2015 election, "This election didn't work, let's look at the next one." This view was in line with another Turkish nationalist, Zafer Party leader Ümit Özdağ, who said that Erdoğan had won a "Pyrrhic victory".
Some 27 million voters wanted Erdoğan to stay in power, 25 million wanted him to go, but a significant portion of those who voted for him to stay did not vote for him because they believed that everything was going well, they voted because they believed that only Erdoğan would fix the bad economic situation.
The division of the electorate is purely political, not ideological or sociological; Turkish nationalist and Kurdish voters played an important role on both sides. Likewise, both Erdoğan and Kılıçdaroğlu supporters included voters from all economic classes and strata.
Erdoğan won, but it will be even harder for him to govern.
The most difficult and urgent problem, as he himself says, is getting out of the economic crisis.
Domestic political outlook
One of the dilemmas for Erdoğan in emerging from the economic crisis is that he will not be able to implement the austerity policies that need to be implemented quickly because of the local elections in 10 months' time. How far can the resources needed to somehow sustain the bermuda triangle of exchange rates, interest rates and inflation on the one hand, and the electoral economy on the other, be found with support from the Gulf states and Russia? We will see.
It is not coincidence that in his speeches both in front of his home in Istanbul and in front of the presidency in Ankara on the election night, he set the target as the local elections of March 2024.
Erdoğan has won, but he knows that his job will become even more difficult if he fails to take the metropolitan municipalities of Istanbul and Ankara from the CHP. Therefore, in both speeches, he focused on hitting Kılıçdaroğlu at his weakest point within the CHP. In other words, the existence of parties in the Millet Alliance that have more deputies in the parliament from CHP list than they can contribute to Kılıçdaroğlu thanks to the alliance agreement.
After the preliminary results were in and Erdoğan's victory was more or less certain, Kılıçdaroğlu said he would not resign and would continue to fight, but on the one hand he has to deal with the reactions within the CHP; after all, the congress cannot be postponed indefinitely.
On the other hand, he has to avoid losing important metropolitan municipalities, especially Istanbul and Ankara, in March 2024. It is not possible for him to do this with CHP votes alone, so he has to continue with the politics of alliances. But how and with whom?
Kılıçdaroğlu's job will become even more difficult. Indeed, his strategic partner IYI Party leader Meral Akşener made her first move in the alliance by blaming Kılıçdaroğlu for the defeat, saying in her post-election speech, "Kılıçdaroğlu wanted it, we supported him."
Hardline policies to continue
Erdoğan has signaled that he will get tougher in all aspects of domestic politics. This applies to everything from the fight against terrorism to the shrinking space for civil society. In the end, Erdoğan won, which – naturally – he interprets as clear support for his policies, and he realizes that he achieved this mostly thanks to the work of three ministers. Interior Minister Süleyman Soylu, Minister of National Defense Hulusi Akar and Minister of Justice Bekir Bozdağ.
They have been instrumental in putting security ahead of the economy in a way that invalidates what former president Demirel used to say: "There is no government that an empty pot cannot overthrow." Soylu and Akar are likely to retain their positions in the new cabinet; we will see.
The fact that Erdoğan gave a special place to messages from world leaders in his speech means that he will continue the same line in foreign policy. Among the congratulatory messages received last night, those from Russian President Vladimir Putin and Donald Trump, whose star has started to shine again in the US, are noteworthy. Egyptian President Abdel Fattah al-Sisi is also worth mentioning.
Erdoğan's win is in line with the global trend of growing nationalism and authoritarianism. Erdogan won and some leaderships in both the eastern and western worlds found it in their interests.
US, EU and Russia
Going forward, we can expect more intertwined relations with Russia and the Gulf states, and this is likely to be to the detriment of Türkiye's long-term interests, even if Erdoğan sees it as a way out.
The US, in all its political myopia, was concerned with Erdogan's approval of Sweden's NATO membership in the face of Russia. If Kılıçdaroğlu had won, it would have been difficult for him to give this approval at the NATO summit in June unless Sweden took steps on the PKK. Erdogan, on the other hand, might think of hitting the PKK on the one hand, and on the other hand, giving Sweden his approval and paving the way for the F-16s.
Likewise, in all its political myopia, the EU's problem was that Türkiye was keeping Syrian and other migrants in the country and not sending them to EU countries. Kılıçdaroğlu's statement "We will send them" was disturbing EU countries, especially Germany. Now that Erdoğan has won, the EU countries have killed two birds with one stone; the other bird is that they can continue to "otherize" Türkiye because of Erdoğan's "Islamist" rule.
The need for democratic struggle
Unfortunately, the sincerity of the West's reaction to cases of Selahattin Demirtaş, Osman Kavala and other political trials seems to have crumbled after hitting the wall of migrants on the one hand and the Russian balance on the other. It was not unexpected and unknown, but now Erdoğan has won and has become flesh and blood.
Not only because of the local elections ten months later. But the need for separation of powers, an independent judiciary and an independent press will increase even more as Erdoğan will continue his hardline policies in the economy and domestic politics.
May 28th will not only cause tremors on the opposition front, particularly the CHP, but will also necessitate changes on the ruling party front due to the difficult conditions.
Some political actors (not only names, but also parties and political groups) will become irrelevant, those who have outlived their usefulness will be erased and replaced by new ones that we may not see now.
However, it is important to see that the new page that will open in politics from now on is not a blank one. Erdoğan won and stayed in power by using all the state's resources to the fullest, but his job will become more difficult due to the economic crisis, political polarization and the need for change in society.
We will have a lot to talk about in the coming days about what will change and how, and the lessons to be learned from May 28.