Taliban's talks in Ankara: an Opportunity or Compromise?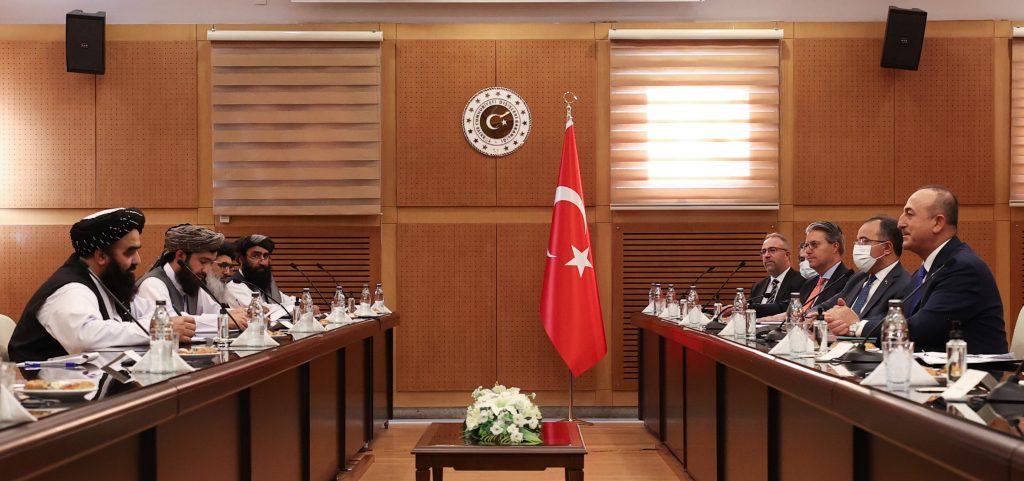 At least 36 civilians were killed and 200 people were injured following a suicide attack on a Shiite Mosque during Friday prayers on Oct. 15 in Kandahar, Afghanistan's second-largest city and the Taliban's birthplace. The day before, a high-level Taliban delegation had arrived in Turkey via a commercial Qatar Airways flight and had already spoken to the Turkish delegation led by Foreign Minister Mevlüt Çavuşoğlu.
The Afghan delegation led by the Taliban's interim Foreign Minister Amir Khan Mottaki arrived in Ankara expecting humanitarian aid and financial support from Turkey. However, they were brought face-to-face with pressing issues such as girls' education, women's right to work, establishing an inclusive government, and preventing a large wave of migration westwards. "There is a huge demand by women in Afghanistan for education, including for higher education," a Turkish official, who asked to remain anonymous, said. "Taliban now has to convince the Haqqani Group that has influence across the Pakistani border, and also their armed fractions, that education is essential." For the past three months, the official said, they have been trying to "show the way" to the Taliban in talks held in Kabul, Ankara, and Doha.
Taliban's reaction Turks to this was like "Why are you imposing Western views on us?" The Turkish side replied that education of girls and women's right to work are human rights, and that "this is the way in our religion, too." Turkish officials say that the Taliban has no direct animosity towards Turkey, and even would like to make up for their lack in academia by sending Afghan students to complete their higher educations in Turkey. This is what was told.
Taliban's test with human rights and bureaucracy
Urgent issues such as paying salaries to teachers and government personnel who have not been paid for three-to-six months await the Taliban, who cannot even pay for their armed personnel at the moment. The group cannot perform as a government yet but is introduced to the concept of bureaucracy after getting the opportunity to govern following 20 years of U.S. invasion. Turkey could play a lifting role here, Turkish sources are saying. Taliban's possible talks with the European countries are more possible after their talks in Ankara, because they softened the political atmosphere, according to Turkish sources.
The talks regarding Kabul Airport, which is still not operational for international flights and operating for a limited number of domestic flights, are ongoing between Ankara and the Taliban. Qatari authorities are on the ground in Kabul, supplying technical equipment and bringing the complex back to life following the U.S. withdrawal. As President Recep Tayyip Erdoğan said recently, as long as international standards of security can be met, Turkey, along with Qatar, is willing to take part in operating and maintenance work of the airport, which now stands as the doorway to the rest of the world for the Afghan people.
However, setting an international standard and gaining global recognition will not be easy for the Taliban at all, it seems. The first Taliban period between 1996-2001 caused some serious damage to the public conscience and left marks on the collective memory, imprinting the Taliban as a leadership that is oppressive, religiously sectarian, and disrespectful of basic human rights. The Taliban is aware it will not forever stay as a group of jihadi men who walk the streets with AK-47s in their hands, as they seek seats at the United Nations and thus seek international recognition. Perhaps this is why they are looking to form an orderly army and police force wearing uniforms.
Turkey doesn't want a solo game
Turkey wants to play a key role in the second Taliban period for Afghanistan's reconstruction. Foreign Minister Çavuşoğlu said he was planning to visit Kabul soon together with some other foreign ministers. Turkey could run into China in terms of gains in Afghanistan when China's appetite for the broken country is obvious. Other actors such as Russia, Pakistan, and India are also in for the impact in Afghanistan. This power balance is only one reason why Turkey is not looking into getting involved on its own.
Responding to criticism coming from the Turkish political opposition, government sources say that, the talks did not mean "not a recognition, but a contact with them." The Taliban delegation's meeting with Ali Erbaş, head of Turkish Religious Directorate, Diyanet, also became highly controversial in Turkish public opinion.
One official is saying, "It's normal for the Taliban to meet Diyanet, the Turkish Red Crescent, and the conservative Humanitarian Aid Foundation (İHH) because these are institutions that can deliver aid." However, the official adds, "For example, Turkish Cooperation and Coordination Agency (TİKA) didn't give an appointment to the Taliban. This is an important detail. Turkey needs to see Taliban's promises are met to create employment opportunities in Afghanistan."
Turkey, today, is continuing its diplomatic mission only in Kabul, after the consulates in Mazar Sharif and Herat were evacuated following the United States' declaration of withdrawing all ground troops.
Turkish diplomatic mission is currently the only NATO member country still actively working in Afghanistan and is likely to remain so. Turkish mission does not approve yet the evacuation requests of the interpreters who worked for them for many years, as a strong indication of that.
Jihadist fractions fight, people face hunger
The Taliban is not the only armed Islamist group in Afghanistan. On top of Al Qaida, there are the Shiite Hazaras, armed by Iranians — a picture that shows the dangerous environment Afghanistan today is, also with an economy that is about to collapse. The Haqqani Group led by Sirajaddin Haqqani, for example, is a fraction that considers central Taliban to be soft, passive, and is asking for stricter measures. For example, Molla Mohammed Akhund, who remains on the UN sanctions list, became the interim Taliban government's prime minister, shows the influence of the Haqqani Group. For numerous security analysts, there are signals for another civil war in Afghanistan where the citizens have to calculate their next meal.
Taliban is also targeted by the deadly attacks in Jalalabad in the country's easternmost region bordering Pakistan as well as in Pervan, where the former U.S. Baghram Base is located. As the Taliban gets bruised by these attacks, the group that gains leverage is ISIS Khorasan or ISIS-K. A bomb attack on Oct. 8 in the Kunduz province killed 50 people and wounded over 100 persons.
The Taliban is consisting of men who lived in the rural for years, had strict madrasa formations, responsible for human rights violations, and united for jihad with automatic rifles in their hands. Although they are condemned by each corner of the world, the reality remains: Some 97 percent of the country is under the severe threat of hunger. That the U.S. has blocked the 9.5 billion dollars of Afghan Central Bank money is considered a massacre by some human rights defenders today.
Without the IMF and the World Bank extending a hand, it is uncertain how the Afghans will survive this winter and in the years to follow.