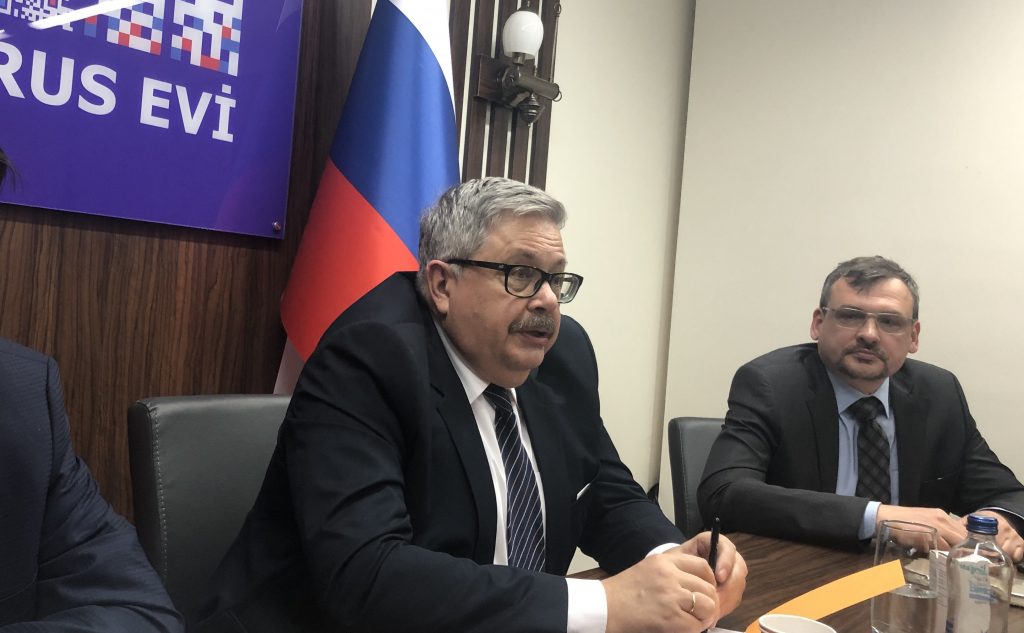 Russian Ambassador to Ankara Aleksei Erkhov held a press conference in Ankara on the evening of March 15. The meeting was not at the Russian Embassy, but at the Russian House, a Russian cultural center. The ostensible purpose of the meeting was to show a documentary film titled "Liberation," which shows how the Donetsk and Luhansk regions suffered and how they were liberated from the US and NATO puppet Ukraine thanks to Russia. It was a typical propaganda movie, similar ones are made in Türkiye, in the US and everywhere else. Much more interesting were the ambassador's answers to journalists' questions after the movie, which he allowed to be on the record – a rarity in Ankara these days.
In fact, apart from the question of how the results of the upcoming May 14 elections would affect Turkish-Russian relations, there was one other question to which the ambassador could not give a definitive answer. That was the question of when and how this war would end. The ambassador's answer "God knows" meant that the world and Türkiye would live with Russia's war in Ukraine for a long time to come.
But first I would like to talk about the timing of this conversation and how he skillfully brought the topic to May 14th.
The timing is significant
The screening was originally scheduled for February 17, the week of the first anniversary of Russian President Vladimir Putin's declaration of war on Ukraine (February 24, 2022), which he called a "Special Military Operation", but was postponed due to the Kahramanmaraş earthquake. The Ambassador's conversation with journalists added with the announcement of the March 15 screening.
The day before, on March 14, the Ministry of National Defense had announced that the Ukrainian grain deal, which was due to expire on March 18, had been extended by 60 days, not 120 days like the previous ones.
At noon on March 15, President Tayyip Erdoğan announced in his address to his party's parliamentary group that Finland, which had started to keep its word to Türkiye, would be approved for membership to NATO, but not Sweden, which did not fulfill its anti-terrorism conditions.
A day later, today, on March 16, there was the Summit of Turkic States, and many leaders from the post-Soviet theatre would be in Ankara. Deputy Foreign Minister Burak Akçapar was in Moscow discussing the Turkish-Syrian rapprochement with his Russian, Syrian and Iranian counterparts.
On March 17, Finnish President Sauli Niinistö is expected to meet Erdogan in Ankara and thank him for admitting him to NATO without Sweden.
Unlike domestic politics, there is little room for coincidence in international politics. The timing of the ambassador's chat was meaningful.
Ambassador's May 14 signal
Erkhov was asked why the grain deal was extended for 60 days and not 120 days as in the past. Just a few hours earlier, the Minister of National Defense Hulusi Akar had said in parliament that efforts were being made to extend the agreement to 120 days. However, the ambassador seemed to have closed the door to this possibility at least until May 18, when the 60-day period expires. This was because Moscow imposed the condition of the other pillar of the agreement, namely the export of grain and fertilizer from Russia, to be started. The export of grain and fertilizer is ostensibly free, but Russia's chartering, payment and insurance of ships for this purpose are included in the US and EU sanctions.
Russia's 60-day extension of the agreement should be understood, in the Ambassador's words, as "a signal, if not an ultimatum". Russia was threatening that it would no longer allow Ukraine to export grain and fertilizers if its own grain and fertilizer exports were not paved the way.
So why 60 days and not, say, 30 or 90?
Erkhov answered half-jokingly: May 19, one day after May 18, is Mustafa Kemal Atatürk's birthday.
May 14, S-400 and the opposition
In Russian diplomacy, coincidences were few and symbols were many. Maruf Buzcugil, the Ankara correspondent of the daily Nasıl Bir Ekonomi, one of the veteran journalists in Ankara, picked up the ball: was the emphasis here on the Turkish-Russian relations that had developed during the War of Independence and Atatürk's era, or on the May 14th elections?
Erkhov replied with a laugh: it was not only the elections that were important. For example, there was Eid, the pilgrimage season was coming. Did he mean that elections come and go?
I asked: There are comments – also in the Russian press – that Russia is in favor of President Erdoğan staying in power. So what will happen to Turkish-Russian relations if the opposition wins the elections?
Obviously, the Ambassador said, "Russian-Turkish relations have 500 years of history. What is important is the continuation of friendship and neighborly cooperation."
But he added, "There are questions to which it is impossible to give an answer."
It was not easy to say anything in advance about the elections in Türkiye. Because "some military-technical issues" were also important in Russian-Turkish relations, such as the S-400 air defense missiles. The ambassador was apparently referring to Kılıçdaroğlu's earlier criticism of the US purchase of S-400s from Russia. If Erdoğan remained in power, the S-400 sale, which was a problem in NATO, would continue.
Yedikule dungeon reference
I asked more specifically: did this mean that Turkish-Russian relations were dependent on President Erdoğan winning the elections?
Even the ambassador's refusal to answer this question could be interpreted as Russia wanting Erdogan to win.
"I don't want to interfere in Türkiye's internal affairs," Erkhov said, "We have interesting traditions. This is what happened to our previous ambassadors". Erkhov, who had previously served as Russia's Consul General in Istanbul, recalled with a laugh: "Yedikule, you know".
What was the importance of Yedikule?
Following the 1699 Karlofça Treaty with Tsarist Russia, which was considered the beginning of the decline of Imperial Türkiye Russia had opened an embassy in Istanbul. For some reason, Tsar Peter I, whom the whole world calls "Great" and we call "Mad", appointed Pyotr Tolstoy, the grandfather of the famous writer Lev Tolstoy, as his ambassador. Tolstoy showed great success, but when he was not satisfied with this and wanted to return to the center for higher posts, he was dismissed and imprisoned in Yedikule dungeons for two years during the reign of Ahmet III.
"Provocation" in the Black Sea
"They can't throw you in Yedikule," I joked back. "There is a Russian proverb," he said, "If there are people to throw, there is a place to throw them."
The Russian ambassador wanted to say that he had no intention of saying more and getting into trouble. He had said enough, it was enough to say the conditions for the S-400 and the continuation of the grain deal.
In the aftermath of the Kahramanmaras earthquake, NATO diplomacy accelerated after NATO Secretary General Jens Stoltenberg and US Secretary of State Antony Blinken visited Türkiye (where the Turkish elections were also discussed). The diplomacy, which proceeded through Foreign Minister Mevlüt Çavuşoğlu and Presidential Spokesperson İbrahim Kalın, opened NATO doors to Finland and brought Türkiye's F-16 request back to the agenda.
The ambassador was also asked about the shooting down of a US MQ-9 Reaper drone over the Black Sea by two Russian Su-27 jets on March 14.
"What is an American intelligence drone, capable of carrying weapons, doing 65 kilometers from the Russian naval base in Crimea? No, it was not yet clear whether it had taken off from Greece, or from an aircraft carrier, or from where. But it was a provocation. Just recently (March 11), a US B-52 strategic bomber, which can carry nuclear weapons, had taken off from Poland on its way to Finland and had passed over Kaliningrad and St. Petersburg in Russia over the Baltic Sea. Who was provoking whom?
As for Türkiye's Russia-Ukraine efforts… Russia was ready to continue the Istanbul meeting, but Ukraine had closed the door. Otherwise, Russia appreciated Türkiye's efforts.