Erdoğan signals revision on foreign policy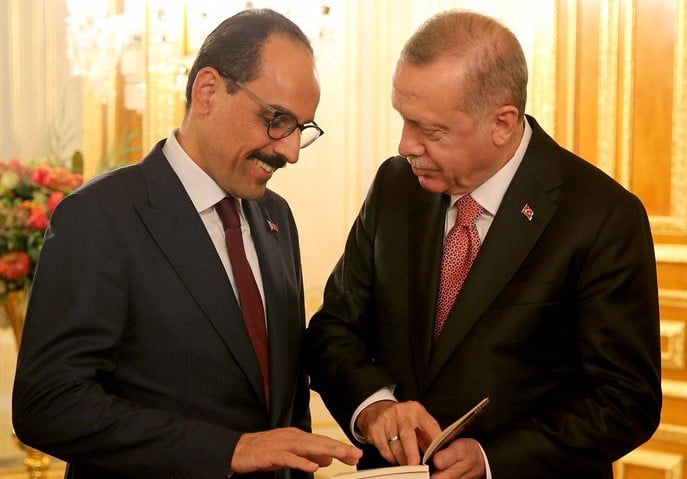 İbrahim Kalın, President Tayyip Erdoğan's spokesperson and chief security and foreign policy advisor, has signaled revision on Turkey's foreign policy. Such revision seems to be focused on putting relations with the U.S. administration under Joe Biden into the track.
So remarks by Kalın during a March 8 interview with Bloomberg on a wide range of issues from the purchase of Russian S-400 missiles to mending ties with Middle Eastern countries can be interpreted within this framework.
Obviously, the most striking statements by Kalın were about the S-400 missiles that strained the tensions between the two NATO allies but signals of an overall revision can also be observed in the quote below:
"We don't agree with Russia on everything, including [Bashar] Assad's future, [Khalifa) Haftar, Crimea. However, we can manage our relations with constructive dialogue. Why we wouldn't do the same with the U.S.?"
This might be interpreted as "Turkey does not agree with the U.S. on the S-400s, the existence of the PKK/YPG in Syria and Fetullah Gülen. But we cooperate in NATO against Russian threats in the Black Sea, Afghanistan, Iraq and Libya. If mutual relations will not be as they used to be then this might be a new model."
NATO membership, conflicts of interest
Turkey's proposal sounds good, but there is one important detail. Turkey is not the same political-military alliance with Russia; and it is committed to NATO, the alliance against Russia (and inevitability China). If things go wrong with Russia, you can close the doors as long as you can. But if things went south with the United States, would Turkey close its doors to NATO?
Kalın's proposal means a serious revision, review or change in Turkish foreign policy.
Undoubtedly, this does not only reflect Kalin's personal views. Kalın speaks with the authorization by the president in a field within the field that falls under the jurisdiction of both the Foreign and Defense ministries.
As you would remember, Defense Minister Hulusi Akar recently suggested a Greek model for S-400 missiles, inspired by the fact that Athens keeps its S-300 systems idle on the island of Crete, and Kalın said the minister's remarks were distorted. This was a de facto erasing of the records about such a suggestion. At this point, it is possible to claim that Kalın is the only figure that Erdoğan wants to be respected in both foreign affairs and defense issues (and probably Intelligence).
On the other hand, the detail that Kalın revealed on the U.S. economy channel about the S-400s is directly related to NATO.
S-400s, Patriots and joint NATO system
"We can have these S-400s that will not be integrated into the NATO defense system," Kalın said to ease concerns that they would be deployed in positions to pose threats to NATO systems.
Turkey earlier argued that Israeli F-35 fighter jets operated in Syria as Norwegian F-35s also operated alongside Russian S-400s in the Baltic. But the U.S. says in response that the two systems were not connected to the same air defense systems in these two examples. So we will see what the U.S. will have to say about this new suggestion.
Kalın also pointed out a detail that had not been highlighted before about a turning point in Erdoğan's decision to purchase S-400s. So far, Turkey has argued that it acquired the Russian missiles because the U.S. refused to sell Patriot missiles under feasible conditions.
However, Kalın now recalls that the U.S. had the Patriot missiles withdrawn from Turkey in the midst of the Syrian war and Turkey reacted to this move.
Let us remind that the U.S. pulled the Patriot missile systems from Turkey in October 2015, even after Turkey opened its İncirlik base to U.S. fighter jets for operations against ISIL in June 2015. One month after that, in November 2015, Turkish F-16s shot down a Russian SU-24 jet that violated its Syrian border, triggering a big crisis in Ankara-Moscow relations.
Syria, YPG, Fethullah Gülen
Also in October 2015, the U.S. Central Command (CENTCOM) headquarters set up the Syrian Democratic Forces (SDF) in an attempt to mask the ties between the outlawed PKK and the YPG that it utilized in the fight against ISIL in Syria. General Lloyd Austin, who headed CENTCOM during that period, is now the Defense Secretary of the Biden administration. Brett McGurk, the US President's (both of Obama and Trump) Coordinator of the fight against ISIL of the time who was the political coordinator of this process, is currently Biden's Special Representative in the Middle East and North Africa.
Despite all these crises, Turkey has signed a comprehensive revision agreement with the EU on Syrian migrants in March 2016. In June 2016 came the normalization agreements with Israel and Russia.
Turkey faced a coup attempt on July 15, 2016, only months after the normalization deals with these two countries And only five weeks after that Turkey launched its first military operation in Syria, the Jarabulus operation.
In the interview, Kalın placed the U.S. support to the YPG in Syria, and to Fethullah Gülen and his organization that orchestrated the coup attempt against the Washington threats of fresh sanctions against the S-400 purchase.
Is greater bargain possible?
The goal here is clear: to explore the ground for "great bargain" on the axis of S-400/F-35 and Syria/YPG issues despite threats from the U.S.
Kalın said in an interview with daily Sabah a few days earlier that Turkey would not "totally refuse" NATO's security concerns. In the same interview, he also said Turkey showed the U.S. that it "has alternatives" by purchasing S-400.
Erdoğan has expressed through Kalın a possibility that it might revise his foreign policy during the Biden era but is such a "great bargain" really possible? Even at a time when there is an unprecedented reaction against Erdogan in Washington, with accusations of human rights violations and deterioration of democracy.
According to Foreign Policy magazine, Biden is responding to it by not calling Erdoğan. And all these happen despite the U.S. arms industry is well aware that if Turkey starts actively using S-400 missiles, this would set an example for many countries in the world, including NATO members.
Another issue that coincides with these splits is that confessor Reza Zerrab will testify in the Halkbank case on May 3 in the U.S., with the prosecutors arguing that the Turkish state lender was involved in the violation of sanctions on Iran.
Is revision a compromise?
If mutual interests exist, compromise is possible in politics depending on the concessions to be made. Not every revision is a compromise. Not every revision, every compromise is bad. What matters is whether the public interest is compromised on not.
In the meantime, Hakan Atilla, former Halkbank deputy chair who had served jail time in the U.S. as part of the ongoing case, before being appointed to Borsa Istanbul Hakan Atilla, who was appointed as the head of Borsa Istanbul, resigned from the top seat of the Istanbul stock exchange on the same day that Kalın's interview with Bloomberg was published. So there is still a lot to see in weeks and months ahead.